After growing concerned about their chosen hiding place, Carol tweeted NSW Rural Fire Service for advice on the best places to shelter at about 4pm. They immediately responded in a direct message to her, asking where he was before sending out a truck to free them.
"When I spoke with Dad after they'd taken him to the school, he told me they'd 'lost everything but the shed'. But I now know that the shed was also incinerated…" she added. "So, the RFS people who went and got my Dad and his partner OUT OF THE SHED thanks to Twitter … saved my Dad's life.
"This tiny town will need support. My brother has just spoken to Dad who said to him, 'We're fine – we've still got the clothes we're in but the guy next to me is in shorts and thongs' … Thank you for your support. We will re-group and then think about what we can do for this tiny village."
Carol has since shared a screenshot of a few of her messages with the fire service on her GoFundMe page, as she expressed her sincere thanks to them. One of the firefighters responded to her: "So sorry he lost everything. Unfortunately we couldn't save all the homes." Carol thanked them again, adding: "You saved them. I just hope he survives the shock of it all."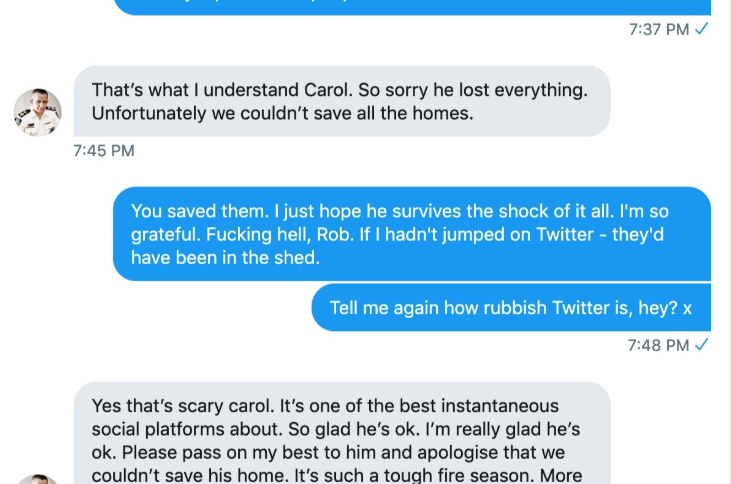 And keeping her Twitter followers up to date, as her story quickly went viral, Carol has since added: "My Dad & his wife are OK, but in shock. My brother is on his way as soon as roads re-open. This is a trauma that is so common, yet so unimaginable."
The fundraising page has already raised more than $12,600 for John, with Carol explaining in a moving message how he "lost everything except the clothes he was wearing in the Busby's Flat bushfire". She added: "My Dad is a proud man, but he's a classic pensioner battler. My family will do all we can, but he needs a bit of a hand. I hate asking, but I'd do anything for my Dad.
"He had a photo of his mother on the wall of his home. He was just 8 when she died. I'm glad a (sic) have a copy of it for him. The really personal stuff. Dad isn't well. He's 83, has had lung cancer and is currently having a bunch of tests done because we think he's experiencing small strokes (TIAs or something). He was due to get his test results tomorrow.
"He's so distressed and I can't do as much as I wish I could. But I'll do everything I can for my Dad."
Carol has pledged to donate all remaining funds to "help other victims and rebuild the entire village. We will work with authorities to get this money to the victims of this tragic disaster".