https://twitter.com/ACurrentAffair9/status/1159393441043771392
"This is excessive, this is the nanny state gone crazy," he told the program.
"You see it everywhere these days, people being outraged about the smaller things, we have signs coming up everywhere. The park should be enjoyable and not be ruined by this one guy"
His comments were echoed by reporter Ben Fordham who labelled the resident in question an "absolute whinger" and "looser".
"You live near a park, next to a lagoon, which is near the ocean, I mean honestly, this is part and parcel of life in Australia," he told A Current Affair. If you don't like it, leave."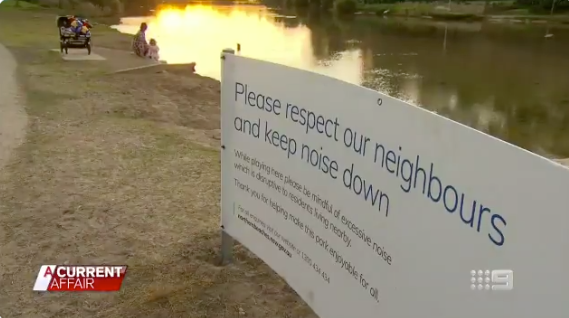 Meanwhile, others have since taken to social media to voice their opinions on the issue with the majority claiming it was ridiculous for the council to erect the signs after just one complaint.
In a comment on Twitter one person wrote: "Oh the entitlement of some people is real … don't like kids having fun in the park like they are supposed to? Move!"
Another added: "It's a public area and unless they are there past 9pm (making heaps of noise) it shouldn't be a problem. Most parks are already set out in the community so if you really hate the sound of kids playing you should factor that into choosing the right house for you."
While a third said: "The fact that sign was still erected over the complaint of one whiney person still amazes me. We literally live in the world of he/she who cries and throws a tantrum the loudest gets their way. It's pathetic."
However, there were some who claimed park goers should be respectful to the residents nearby and take care of making too much noise in the area.
"Some respect is due – and you have to question how respectful the younger folks are these days," someone wrote on Twitter.
Their comments were echoed by another who said: "Back in my day we were taught to be considerate of our neighbours. We were also taught to be responsible for our behaviour. Sadly neither are taught these days."
The council has since removed the signs from the area however, this apparently is not due to the outrage of other residents, but because they feared retribution against the person who made the complaint about noise.
Do you think it was right of the council to erect the signs around the park? Or should kids be allowed to make noise and play without concern of those who live nearby?