That came after FINA, swimming's world governing body, handed him a warning over alleged incidents at his home in China last September, which took place when a doping control team attempted to take blood and urine samples. It's claimed he smashed vials of his blood with a hammer at the time.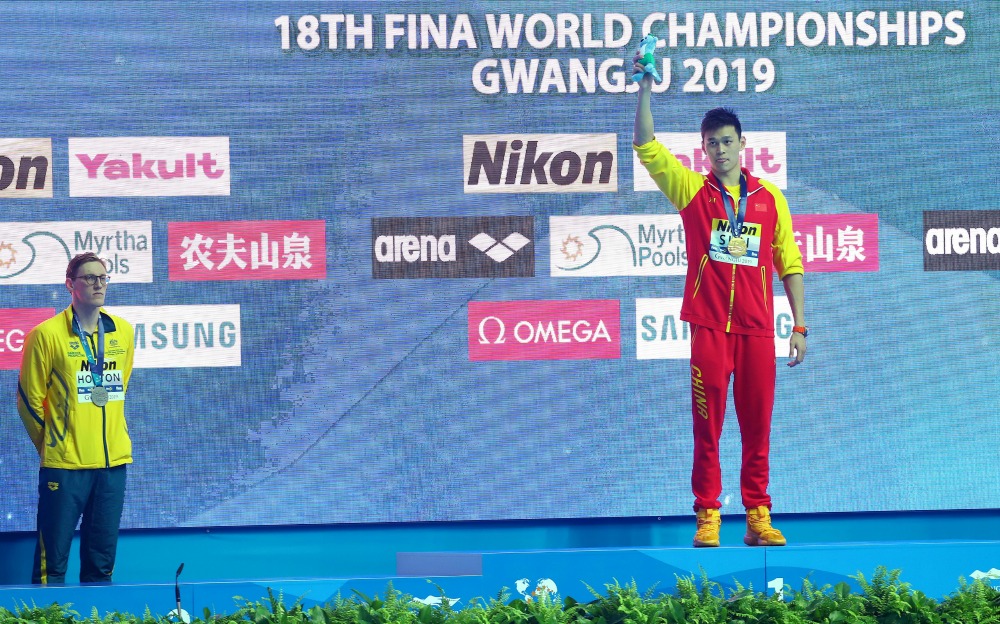 Read more: Aussies back Mack Horton as swimming feud with China escalates
Horton has previously made it clear he was unhappy that Sun was allowed to compete ahead of the hearing – which could spell the end of his career.
"I was aware that the Australian athlete had dissatisfaction and personal feelings towards me," he reportedly said. "But it was unfortunate because disrespecting me is okay but disrespecting China was very unfortunate and I felt sorry about that.
"I'm aware of the rumours… [But] I think this has been the greatest achievement in history for the Chinese [swimming] team."
Read more: Mack Horton undergoes surgery after fan spots something on his chest
While head coach Jacco Verhaeren is said to have had no prior warning of Horton's protest, he had no issue with it.
"That was his idea to do that. But let's put it this way, I understand him very much," he said, 7 News reports. "He has been very strong and vocal about this in the past… you can only respect him for what he does. Mack stands for what he stands for. Nobody can take that away from him, nobody should."
Horton has previously dismissed Sun as a "drug cheat", while speaking ahead of the Rio Olympics.
Read more: Mack Horton wins gold for Australia in the swimming
The incident has divided people online, with many applauding Horton's actions – while other claimed it was uncalled for.
One Twitter user wrote: "We stand with you @_mackhorton," while another added: "Mack Horton continues to take a stance against Sun Yang refusing to stand on the medal dais with the man accused of smashing his own blood samples. Plenty of strength in his silence and swimmers around the world will stand with him. #westandwithmack."
Read more: 'Bad boy' Nick Kyrgios slapped with $11.5K fine for unsportsmanlike conduct
However others accused Horton of "humiliating" Australia, with one writing: "@_mackhorton Why are you kneeling on the podium when you are representing AUS!?!?!? Losing the medal is not an excuse to humiliating our country."
Another added: "Loser… lack of sport spirit."
And one wrote: "What a shame #mackhorton… This loser prefers to humiliate himself and his own country than to admit he is a runner up….#FINAGwangju2019."
What do you think? Was Mack Horton right to shun the podium? Or do you think it was unsporting of him?