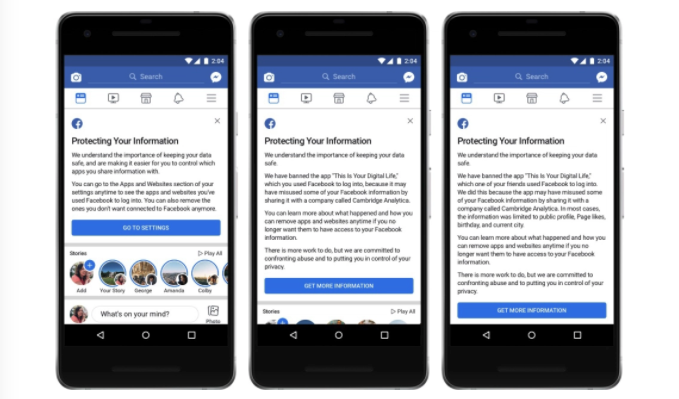 How you can check right now if your data has been shared
Earlier today, Facebook launched an online tool which allows users to check whether their data has been shared. You need to be logged into your Facebook account for the link to work.
Click on this link (to a Facebook help page) to determine if your data has been shared. The notation in the box will tell you whether your data was shared or not.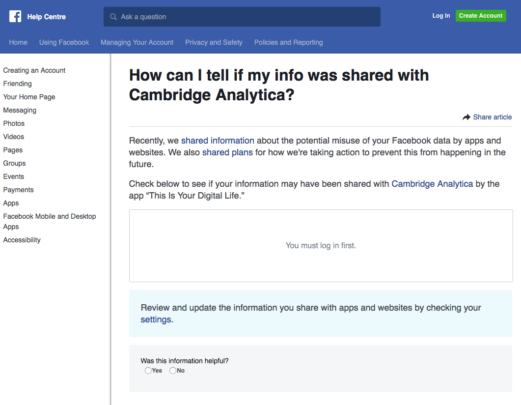 Even if your data was not shared, it's worth going into your Facebook account's Privacy Settings, reviewing which apps and websites have access to your Facebook account and removing any that you no longer require.
Zuckerberg faces two-day congressional inquisition
The update comes as Facebook's founder, Mark Zuckerberg appeared before a full room of US senators in a two-day congressional inquiry that grilled him about the company's operations.
The famous entrepreneur began by owning up to the fact his company failed to prevent Cambridge Analytica from compiling personal data from 87 million users to try to sway the American 2016 election.
"We didn't take a broad enough view of our responsibility, and that was a big mistake," Zuckerberg said, according to ABC News. "It was my mistake, and I'm sorry. I started Facebook, I run it, and I'm responsible for what happens here."
Zuckerberg appeared to be less certain about some of the detailed aspects of his own platform, such as how long the company kept a user's data after they had deleted their account.
When questioned on this by one of the senators, he replied, "I don't know the answer to that off the top of my head, I know we try to delete it as quickly as reasonable … I can follow up or have my team follow up to give you the data on that."
Zuckerberg also declared that Facebook faced an "ongoing arms race" with people in Russia who were trying to meddle in US elections, and said the company could not be sure whether it could police it all.
The congressional inquiry will continue tomorrow.
Have you seen the notification, or was your Facebook data shared?