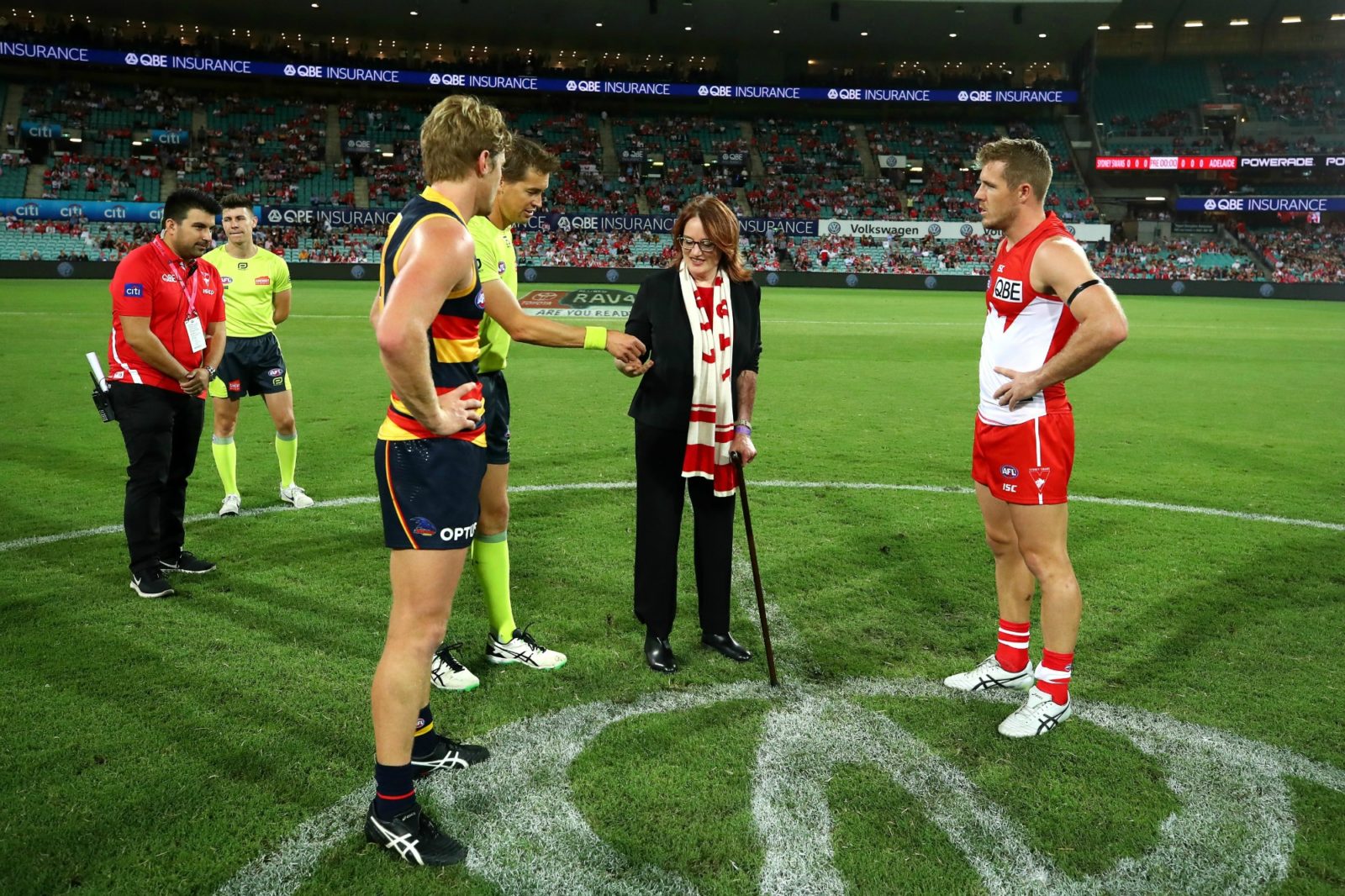 "Every week we have someone dropping it on their foot. Come on, toss it up properly for goodness sake. Practice in the week, you know you're going to do it. It can't be that hard can it guys, seriously," he added.
The Sydney Swans released a club statement after hearing the comments following the match, condemning his remarks and saying they felt "incredibly disappointed" by them.
"The comments show not only a lack of empathy, but also ignorance," the statement read.
"Cynthia Banham is a passionate Sydney Swans member, our number one ticket holder, and a courageous woman who is an inspiration to all of us at the club. She was one of the key figures behind our Diversity Action Plan.
"Regardless of who is invited to toss the coin, they are doing so by invitation and as recognition of their love of the sport or club. It's a tradition that should be celebrated. We are extremely proud Cynthia was there to toss the coin for our first home game at the SCG this season."
McGuire issued an unreserved apology at halftime, insisting his comments weren't aimed at Banham directly.
"Before the bounce I made some comments about how we do the coin toss," he said. "It had nothing to do with Cynthia Banham, who was the coin tosser tonight at the SCG who has a disability. I just want to apologise if this was communicated in the wrong way."
He added: "I did not mean to offend anyone, especially Cynthia, and I apologise unreservedly to her and her family and friends and Swans supporters and anybody watching tonight who took it that way."
Banham famously survived the 2007 Yogjakarta plane crash that killed 21 people, including five Australians. She had been in Indonesia working at the time, before catching the Garuda Flight 200 from Jakarta.
She was left with a broken back and burns to 60 per cent of her body, before an infection meant she lost both of her legs.
However, she has since gone on to achieve a Doctor of Philosophy and a Masters in International Affairs, and is now a Swans ambassador and Sydney's No.1 ticket holder.
The comments sparked a huge backlash online, as many Twitter users hit out at McGuire for the remarks.
Journalist Erin Riley wrote: "Cynthia Banham, journalist and scholar, who survived the Yogyakarta plane crash, who is an amputee, tossed the coin at the Swans game tonight. Eddie McGuire mocked her coin tossing skills."
Another viewer added: "Eddie McGuire made fun of this woman for not tossing the coin well. She looked like she could barely stand and had a walking stick."
And one wrote: "It should come as no surprise to anybody that Eddie McGuire is the real t****r here. How does a man who repeatedly puts his feet in his mouth and offends everyone still gets to hold down a job? He is constantly being forced to apologise. Sick of this idiot."
Did you watch the match? What do you think of McGuire's comments and subsequent apology?