A church on the Eastern city of Batticaloa was also targeted by the terrorists – suggested by Sri Lankan politicians to be part of one group – as well as St Sebastian's church in Negombo.
While the majority of those who have lost their lives are said to be Sri Lankan nationals, it has been reported that around 30 of those killed were foreign nationals, including three British nationals and two dual US-UK citizens, according to the BBC.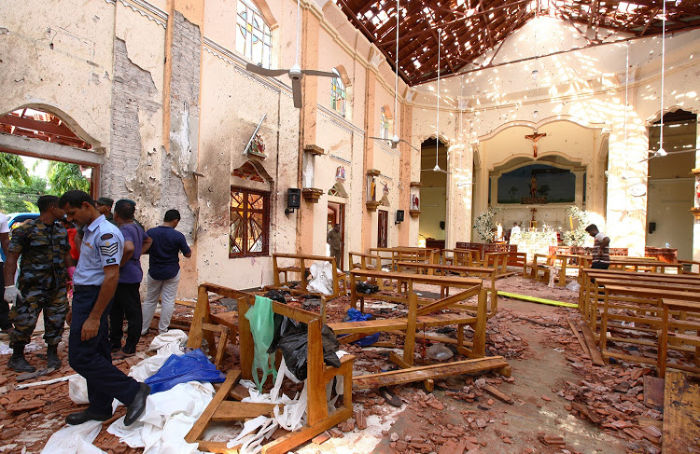 Sri Lankan Prime Minister Ranil Wickremesinghe slammed the "cowardly" attacks and urged people to remain "united and strong".
The government has said most of the attacks are thought to have been carried out by suicide bombers, with MP Harsha de Silva telling media that the last two blasts appeared to have been carried out by the culprits as they fled from police.
A curfew has also been imposed until further notice and social media networks have been temporarily blocked across the country.
https://twitter.com/HarshadeSilvaMP/status/1119967627479326720
Speaking on Sunday evening, Prime Minister Scott Morrison condemned the attack, saying: "Bombings in Sri Lanka of Christians as they went to worship on Easter Sunday, bombings in hotels, all coordinated as part of a deadly terrorist attack."
The PM also encouraged anyone with family in Sri Lanka to call 1300-555135. He added: "As we move into the next few days, I am sure the information will be become more sickeningly real and the devastating nature of this horrific attack on innocent lives on the holiest of days on the Christian calendar is just absolutely devastating.
"I reach out particularly to our Sri Lankan community here in Australia and to the beautiful people of Sri Lanka, Australia sends its heartfelt sympathies and our prayers and our support in this terrible time."
While New Zealand's Prime Minister Jacinda Ardern described the attacks – which come just one month after her own country was rocked by a mass shooting, resulting in the death of 50 Muslim worshippers – as "devastating".
"New Zealand condemns all acts of terrorism, and our resolve has only been strengthened by the attack on our soil on the 15th of March," she said, according to the NZ Herald.
"New Zealand rejects all forms of extremism and stands for freedom of religion and the right to worship safely. Collectively we must find the will and the answers to end such violence."
Australia's foreign office is currently advising people to "reconsider their need to travel" due to the "high level of risk".
The government's Smartraveller website advises: "Think seriously about whether you need to travel here due to the high level of risk. If you do travel, do your research and take a range of extra safety precautions, including having contingency plans. Check that your travel insurer will cover you."
Have you been following this story? Have you ever visited Sri Lanka?