She captioned the photo: "Kisses for Kirk," and it was inundated with comments from the moment it went live on Instagram, as fans reacted to the rare update on the actor. One wrote: "Beauty and the Legend," while another added: "Excellent and noble actor." Meanwhile one wrote: "How wonderful," and another added: "Oh my, this is just lovely."
Kirk recently celebrated with his son and daughter-in-law as they both marked their birthdays on the same day – with the actress turning 50, while Michael turned 75. And Catherine once again gave a very fleeting glimpse at Kirk on the day, sharing a photo on her Instagram Story (which sadly disappeared after 24 hours) of her smiling with her arms around the acting legend.
Meanwhile, Michael added his own photo – instead choosing one of them together from years ago in 1969, from his first feature movie Hail Hero. He simple captioned it: "Wow!"
Meanwhile, it comes after Kirk, who will celebrate his 103d birthday in December, posed for an epic family photo spanning four generations a few months ago. The happy snap also featured Michael and Catherine along with their teenage kids Dylan, 19, Carys, 16.
Kirk's wife Anna Buydens, who celebrated her 100th birthday earlier this year, was also pictured in the snap. While Cameron, from Michael's previous relationship with film producer Diandra Lucker, posed in the image alongside his wife Viviane and their one-year-old daughter Lua.
Baby Lua shares a particularly special bond with Kirk thanks to the little girl's middle name, Izzy. Kirk was actually born Issur Danielovitch and was known as Izzy for most of his life. Cameron and Viviane chose the special name to pay tribute to the family patriarch and ensure his legacy lives on through the next generation.
Other family members in the photo included Kirk's second-youngest son Peter Douglas, who posed alongside his wife Lisa, and two children Kelsey, 27, and Jason, 16 – his other two sons, Ryan, 19, and Tyler, 23, were missing from the picture.  American film producer Joel Douglas was also pictured in the stunning photo.
The impressive snap of the 14 relatives was posted by Michael's niece Kelsey on Instagram, with the caption: "A table of strong jaw lines, large appetites and a shared love for attention #FAMILY (missing a few key players: @[email protected] ) – family photos are tough." She also posted a sweet picture of herself with her grandfather Kirk who was sporting sunglasses and a trendy patterned shirt for the memorable occasion.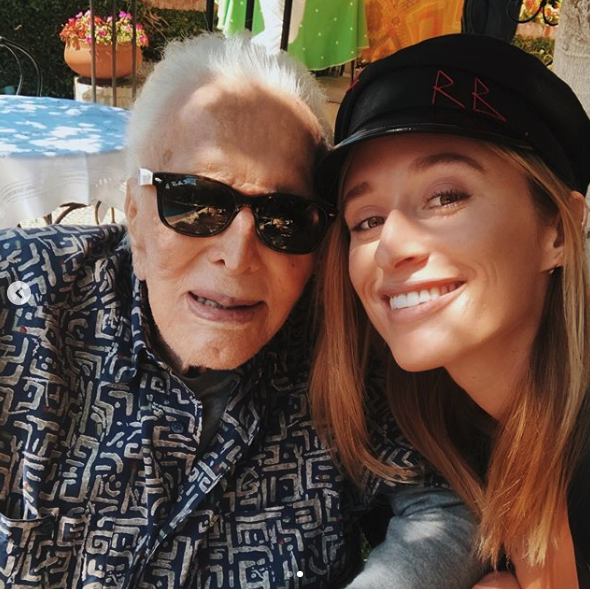 Meanwhile, Cameron also uploaded a similar post to social media, with the caption: "#Familyfirst." And fans were quick to comment on the image, with one writing: "What a beautiful family." Another social media user wrote: "What a beautiful family. Looks so fun." While a third added: "What an awesome photo. So nice that all of you got together." While another wrote: "Such a wonderful family photo!!! Thank you for sharing."
Michael became a first-time grandfather last year when Cameron's wife Viviane gave birth to daughter, Lua. Cameron has shared several photos to his social media over the months showing Grandpa Michael and Great-Grandpa Kirk fawning over the little girl.