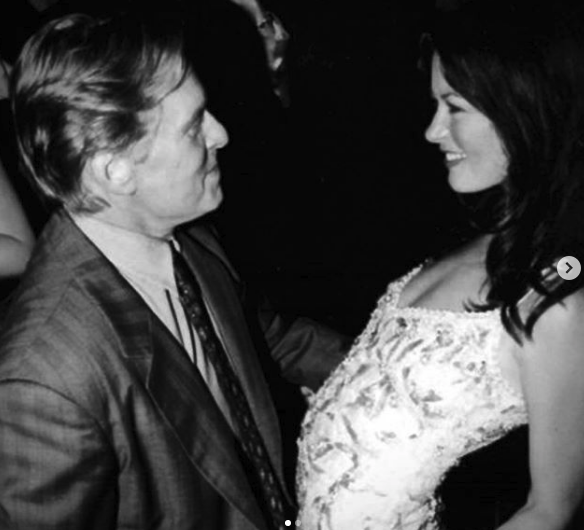 The letter from Kirk, who turns 103 in December, shared some sweet words of wisdom that were traditional – but with a twist.
It read: "Dear Michael and Catherine, Happy anniversary! Michael, you learned a very important lesson, to stay married you must obey your wife! Keep practicing what I do with my wife."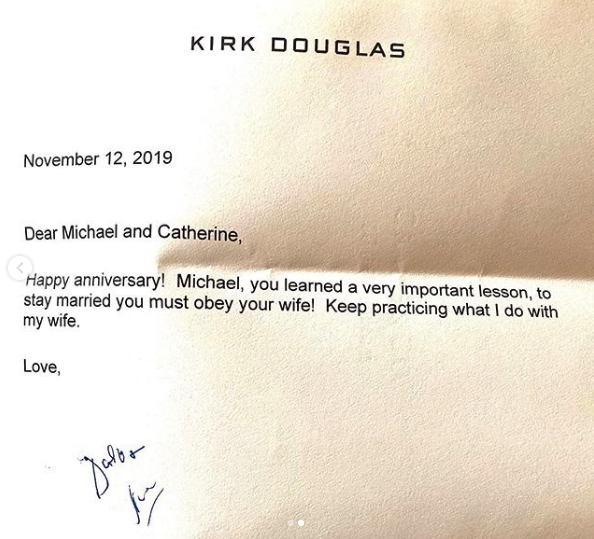 Fans were thrilled to see the letter, with one writing: "Happy Anniversary, that letter is all truth."
"That letter from Kirk is pure love," another commented, while a third wrote: "Happy anniversary Catherine & Michael! Kirk! You are an awesome father in law!".
Kirk certainly knows a thing or two about marriage and the importance of letters, particularly love letters. He's been married to wife Anne Buydens, for 65 years and in 2017 the couple released a joint memoir called Kirk and Anne: Letters of Love, Laughter, and a Lifetime in Hollywood.
The book revealed how the famous lothario wooed his French wife, who was working as translator on one of his movie sets, with words, then kept wooing her with them throughout their marriage.
Kirk previously said that Anne kept all their love letters, but he came up with the idea of publishing them because he felt modern society had lost the art of writing romantic billets doux.
"I hope our grandchildren won't be shocked by the intensity of the letters," he said when the book was published. "Perhaps they will come to value, even in this world of instant communication, the joy of writing and receiving non-electronic letters — particularly when it comes to love."
"Today, you get an email. It does nothing to you! It's cold. It's the new world. I like the old world better," Anne added.
One of the last surviving stars of Hollywood's Golden Age, Kirk's impressive career in Tinsel Town began in 1946 when he made his movie debut in The Strange Love of Martha Ivers alongside Barbara Stanwyck. He went on to star in a staggering number of hit flicks including The Vikings (1958), Lust for Life (1956), Paths of Glory (1957) and Lonely Are The Brave (1962).
The great-grandad has also featured alongside his son and grandson on the silver screen as Kirk, Michael and Cameron all starred in 2003's It Runs in the Family, with the real-life relatives playing three members of the same family. The movie was described by Douglas at the time as: "A black comedy about three generations of a dysfunctional family living in New York, and their attempt to reconcile".
He also boasts an impressive trophy cabinet, having won an honorary Oscar in 1996, a Golden Globe for his role as Dutch painter Vincent Van Gogh in Lust for Life, as well as a plethora of nominations for his most iconic roles.