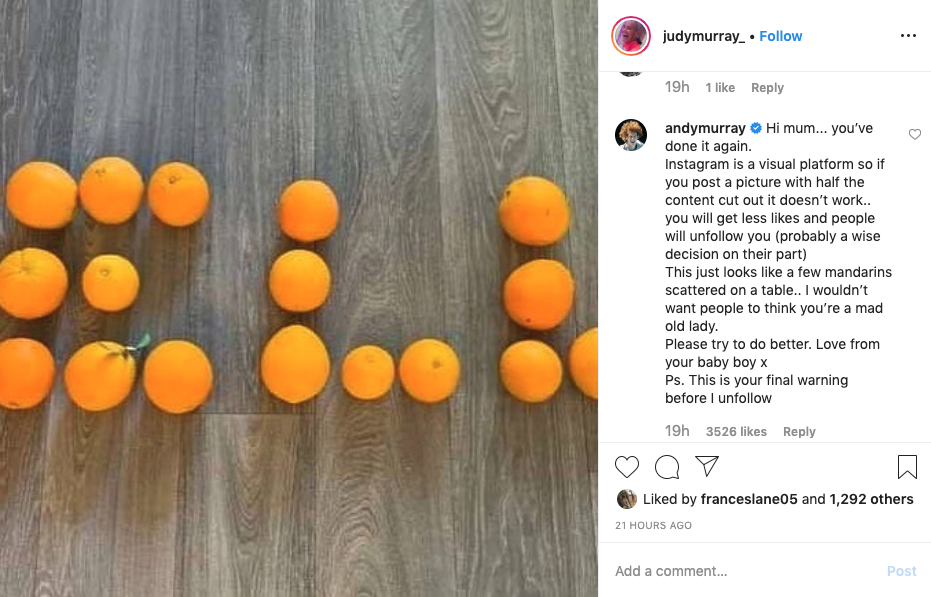 "Hi mum… you've done it again," he commented on Judy's image. "Instagram is a visual platform so if you post a picture with half the content cut out it doesn't work… you will get less likes and people will unfollow you (probably a wise decision on their part). This just looks like a few mandarins scattered on a table… I wouldn't want people to think you're a mad old lady."
He then added: "Please try to do better. Love from your baby boy x Ps. This is your final warning before I unfollow."
Judy's followers couldn't help but laugh at the gentle ribbing between mother and son, with one person commenting: "So funny. Andy you need to do comedy once your tennis career is over… hopefully not for a wee while yet!"
Another said: "Love it, you two are hilarious." While another wrote: "You people are hilarious. Legends, heroes, plain awesome."
However Judy then retaliated and shared the image a second time, this time making sure all five letters of the word hello were visible, before poking fun at Andy in the caption. She wrote: "Ok. So I post part pictures regularly. This is especially for my younger son who always points out my shortcomings. How to say HELLO in Mandarin."
Judy is currently Down Under for the Australian Open, as a well-respected tennis coach in her own right, however it was recently revealed that Andy has been forced to pull out of the competition due to a pelvis injury.
The setback comes almost one year after the 32-year-old broke down during an emotional press conference during last year's competition in Melbourne, as he told reporters that he believed persistent hip pain may force him to hang up his racquet for good.
However the father-of-three, who married wife Kim Sears in 2015, went on to have hip replacement surgery and has worked hard to rebuild his fitness over the past year.
In a statement issued by Tennis Australia last month, Murray said: "I've worked so hard to get myself into a situation where I can play at the top level and I'm gutted I'm not going to be able to play in Australia in January.
"After the (Australian Open) this year, when I wasn't sure whether I'd be able to play again, I was excited about coming back to Australia and giving my best, and that makes this even more disappointing for me."