"Last Friday I stood in this mosque and saw hatred and rage in the eyes of the terrorist, who killed and martyred 50 people, wounded 42 and broke the hearts of millions around the world," he said to the crowd. "Today, from the same place, I look out and see the love and compassion in the eyes of thousands of fellow New Zealanders and fellow human beings from across the globe."
He continued by saying how the terrifying attack would only bring the people of New Zealand together and not tear them apart as the gunman had attempted.
"This terrorist sought to tear our nation apart with an evil ideology … but instead we have shown that New Zealand is unbreakable and that the world can see in us as an example of love and unity," he said.
"We are broken-hearted but we are not broken. We are determined to not let anyone divide us."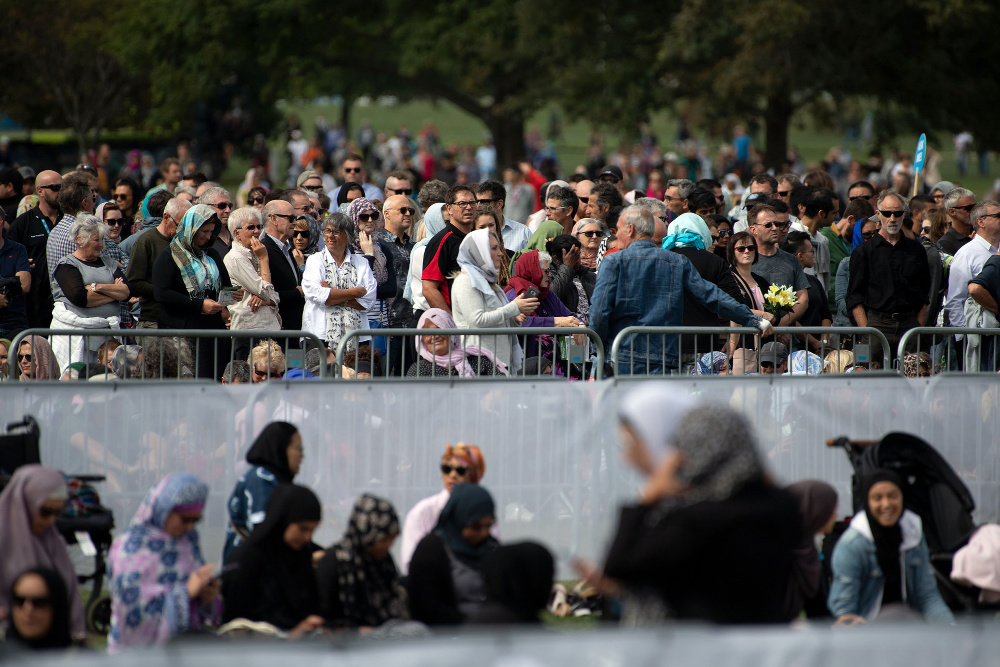 The imam also thanked the people of New Zealand for their support over the past week and made special mention of Prime Minister Jacinda Ardern, who's compassion for the victims has made headlines around the world.
"Thank you for your leadership, it has been a lesson for the world's leaders, thank you for holding our families close and honouring us with a simple scarf. Thank you for your words and tears of compassion. Thank you for being one with us," he said.
Ardern spoke to the crowd of mourners prior to the Call to Prayer, greeting the thousands in Arabic.
She said: "According the the prophet Mohammed … The believers in their mutual kindness, compassion and sympathy are just like one body. When any part of the body suffers, the whole body feels pain. New Zealand mourns with you, we are one."
It was 1.32pm (local time) when the gunman entered the Al Noor Mosque in central Christchurch and opened fire on Friday, March 15, before driving about 5 kilometres across town and attacking the Linwood mosque, where he shot dead seven more worshippers. One person who was injured in the attack later died in hospital.
A bomb was also found in a car on Strickland Street about 4 kilometres from the Al Noor Mosque. Four people were arrested, but only a 28-year-old Australian man has been charged with murder.
The gunman is believed to have killed 42 people at the Al Noor mosque before driving about 5 kilometres across town and attacking the Linwood mosque, where he killed eight more people. One person died later in a hospital.
Have you been following this story? Did you observe two minutes silence to honour the victims of the attack?