"He started chewing on my arm and I thought 'you can have my arm, but you're not having my throat'," he told the Newcastle Herald.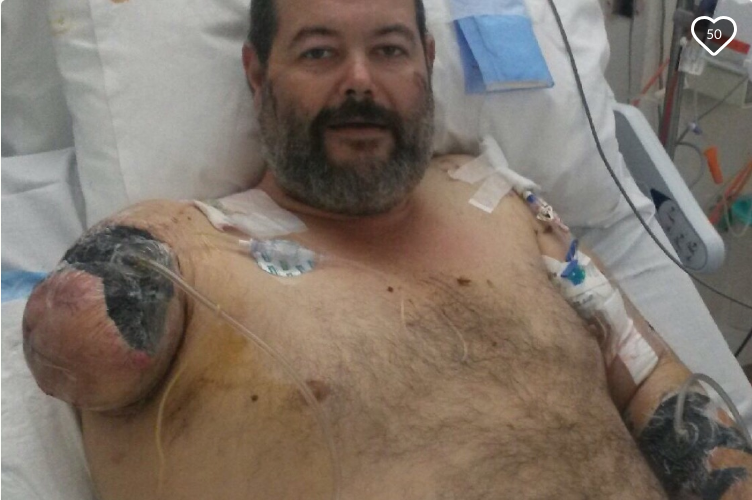 "I buried by face in the dirt and pushed my throat down to try to stop them from getting to my vitals. It was instinct."
Clark thankfully survived the attack however, it has been a tough battle to recovery, with skin from his legs taken to try to repair his injured left arm while his right had to be removed due to the extensive damage.
He is also on antibiotics with fears he could have contracted a deadly infection from the dogs, who were put down following the attack.
Hoping to ease the burden, Clark's friend James Everitt has set up a GoFundMe page in hopes of raising funds to help with medical bills.
"Raising money for a dear friend who has recently fallen on some very tough times," Everitt wrote on the page.
"Always willing to help somebody out and put himself last. And on this particular day while he was doing just that, what he loves to do and that's fix cars, a talented and skilled mechanic going about his work in a driveway of a customer, he was set upon by two very unwelcome dogs and as you can see he came off very second best. The fight put up must have been horendous [sic] to say the least."
Read more: Dog attack: Baby girl 'in serious condition after being bitten on face by pet'
He added: "I can only put this out there because I know for a fact he would do the same for anyone. Brendan we love you mate and we want to see you bounce back to happiness mate. The bills are going to be extreme, let alone doing everything left handed for a long time so lets donate to a wonderful human being and top mate."
So far the generous public have donated over $2,600 for Clark with a goal to reach 20,000.
Have you been following this story?