Make your own salt spray
There is no need to spend a fortune on expensive products to get that beachy texture you get after taking a dip in the ocean, as you can actually whip up an easy spray yourself in the kitchen.
Simply combine 250ml of soda water with a teaspoon of sea salt in a spray bottle and spritz over damp hair after showering. Scrunch it up in your hands and leave to dry naturally for a relaxed, beachy feel.
Tease it
Flat hair is a big problem for many women with short hair but this can be easily fixed with a bit of teasing. All you need to do is grab a section of hair from temple to temple and then push against using a comb, where you normally part your hair to increase lift. Finish with hairspray to keep it in place all day.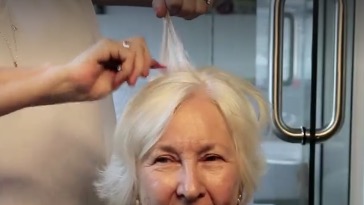 Blow dry half way
Blow drying can be a real pain for many with limited time on their hands, as they work to create a sleek look with no frizz. But your hair can look great too by just blow drying for half the time you usually would and then letting it air dry. Not only will this cut down on heat damage, it will leave you with a natural texture. Tip: If you do blow dry your hair regularly, use a hair oil or heat protecting spray to prevent dryness and split ends.
Do a side braid
It might seem difficult but in fact if you have enough hair, you can achieve a braid! There are plenty of online tutorials that show you how to do it, like this one from Youtuber 'Malibu'. She may be young, but her lovely braid looks great on all ages and will add an extra element to your look.
Wear a funky headband
For those days when your hair is feeling a bit greasy and you can't be bothered washing it headbands can be an absolute lifesaver. They don't have have to be plain and boring either – the variety nowadays is endless! You can wear a pretty gold leaf on a band, or diamantes or velvet. They're a great way to add a little style to a casual look and bring colour into an outfit.
Wrap it up with a scarf or hair wrap
Scarves aren't just to keep you warm in the chilly winter weather with many now choosing to wear them on their head. There are a plethora of ways the material can be wrapped around your head, plus so many colours to choose from to compliment varying outfits from day to day.
Get a fringe
To make a very short cut look more feminine, grow out a fringe (bangs) portion of your hair and wear it soft or side swept for a classic, chic look. You can ask you hairdresser to cut a longer fringe to begin with and shorten it over the next few months until you find the perfect length for your face shape.
Use products that add texture
The trick to keeping short hair modern and youthful is to use products that add toughness and texture. Opt for waxes, pomades or even texture powder instead of gels, sprays and mousse.
Change up your part
Just because you have short hair, you don't always have to wear it the same way! For something different, try changing the placement of your part. It can show off colours you didn't even know were in your hair.
Buy dry shampoo
Dry shampoo is a must-have in every woman's bathroom. It's great between shampoos and it also aids in adding texture to newly shampooed hair, especially if it's very thin.
What are your favourite styling tips? How do you like to wear your hair?