The 48-year-old towered in simple black stilettos for the fun night out at the exclusive venue, while she kept her long blonde locks styled straight and down.
Meanwhile Rod followed along with the same colour scheme in a pair of skinny black jeans, a white shirt and suit jacket. The singer went all out with a gold brooch and snake embellished loafers.
Rod and Penny are well known for their incredible style and, stepping out earlier this year, the couple looked incredibly fashionable in shades of brown and white for the Cheltenham Festival at Prestbury Park.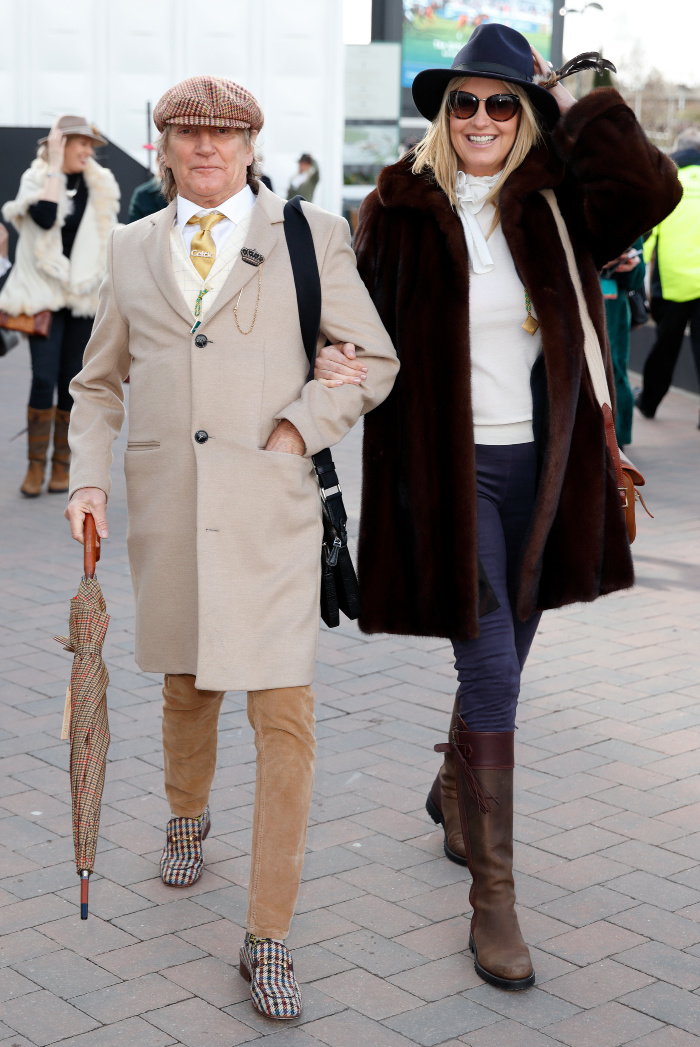 Rod, 74, opted for a smart pair of tan trousers which he paired with a long, beige jacket, yellow tie and a patterned cap. The famous singer came prepared with an umbrella which followed the same colour scheme.
Meanwhile, Penny looked gorgeous as always in navy skinny jeans, a white top and big fluffy brown coat. She completed the outfit with a pair of long brown boots and a stylish black hat. The famous couple are often seen at the annual event which is held over a number of days in March.
When they aren't out enjoying busy events, Rod and Penny love to spend time with their kids. It's certainly no secret that Rod has a lot of children but it's a rare sight to see them posing together for a family snap.
With such a big family it's difficult to gather everyone for a nice photo so when five of the 74-year-old's children were holidaying together earlier this year the rock star took the opportunity to capture the special moment.
His wife Penny Lancaster, 48, took to social media to share the gorgeous image with fans, which was taken during a holiday in Palm Beach, Florida.
The beautiful family photo featured the couple, along with five of Rod's children cuddled up on a couch. It was simply captioned: "Family holiday time but sadly there is always one or two missing @renee_stewartt @rubystewart???"
The famous couple could be seen smiling along with Rod's daughter Kimberly, 39, and Sean, 38, who he had with former partner Alana Stewart.
Read more: Rod Stewart poses for gorgeous family snap with five kids on holiday
Also joining them on the holiday was 24-year-old Liam and Rod and Penny's two sons Alastair, 13 and eight-year-old Aiden.
Notably absent from the snap were Renee and Ruby Stewart, along with Rod's eldest child Sarah Streeter, 56, who was raised by adoptive parents.
Are you a fan of Rod Stewart and Penny Lancaster? What do you think of their outfit choices?