Meanwhile, Kerri-Anne's glamorous appearance comes one month after showed off her incredible sense of style, putting on a glittering display at the opening of a new musical in Sydney. The 65-year-old looked incredible as she posed on the red carpet for the event, where she was among stars who were invited to watch new stage show 'Muriel's Wedding The Musical', based on the iconic '90s movie
Kerri-Anne dazzled in front of the cameras in an eye-catching gold sequinned top which featured full-length sleeves and a crew neckline, which she layered with a chunky black and gold necklace which matched her dark nail polish. While the star's choice of top was bright and bold, Kerri-Anne paired the show-stopping choice with a pair of simple, tailored black trousers, and a pair of understated black patent heeled boots.
Not one to fade into the background though, the blonde beauty added an extra sparkle to her look with a contrasting handbag adorned in silver sequins. Allowing her sparkling outfit to do the talking, Kerri-Anne kept her make-up understated, opting for a subtle dusting of bronzer and blush on her cheekbones, a soft nude lip and subtle smokey eyes.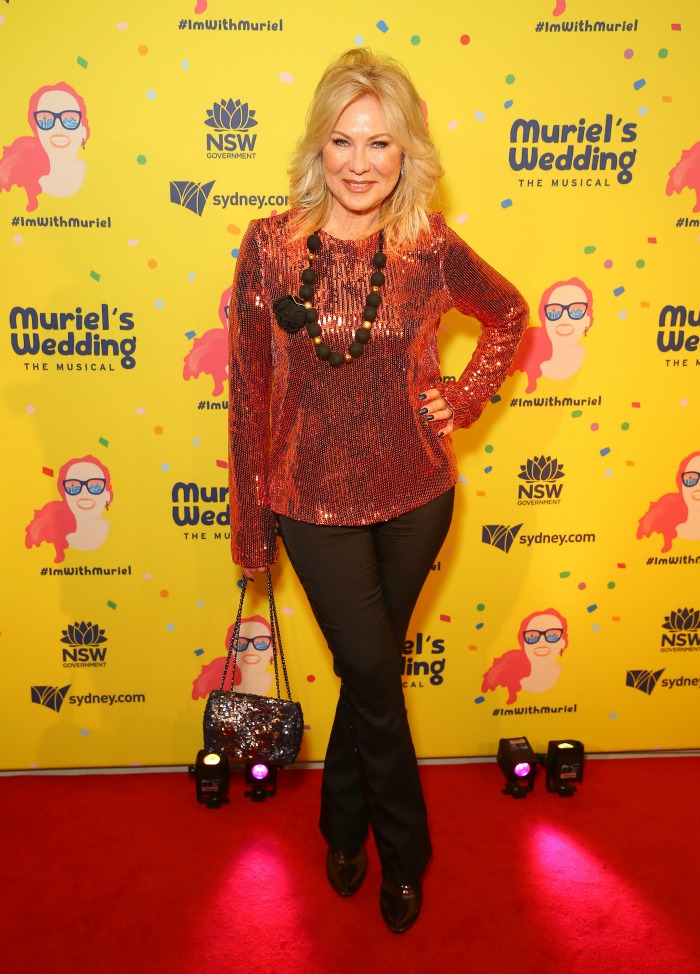 It comes after the presenter, who farewelled her beloved husband John earlier this year, sat down with talk show legend Sir Michael Parkinson this month. The English broadcaster, who attended their star-studded wedding at the Sydney Opera House in 1984, caught up with the Studio 10 host at his home in London, ahead of his upcoming Aussie tour, as he opened up on his friendship with John.
"He was a deceptively quiet man in a sense that you thought he doesn't say much really does he," Sir Michael explained. "But he did, and what he did say was worth listening to."
He continued: "And of course what he had was the most accomodating manner. You felt friendly towards him because he appeared to be the kind of accomodating man, someone you could talk to, look him in the eye and that sort of thing."
In 2016 John sustained spinal cord damage following a freak fall, when he slipped off a balcony at a golf course in Coffs Harbour. He was placed into an induced coma and taken to Sydney where he had emergency surgery on his spine, but the incident left him paralysed and he had to learn how to speak again. Kerri-Anne cared for him in the years that followed, all the way up until his sudden death in February.