The Queen on the other hand went for a more vibrant ensemble for the daytime event in a bright pink coat and hat. The 93-year-old monarch smiled as she passed by onlookers, with a gold broach pinned to her chest and a touch of lipstick adding to the look.
Underneath the warm coat the Queen sported a white and pink dress, while she accessorised with her favourite pearl earrings and necklace. The two weren't the only members of the royal family to step out for the occasion either, with Prince William travelling in the same vehicle in the front seat.
Meanwhile, Prince Charles and Camilla, Prince Edward and the Countess of Wessex along with their daughter Lady Louise, Princess Anne, her husband Timothy Laurence and Anne's son Peter and his wife Autumn were also in attendance. However, Prince Harry, Meghan and their new bub were notably absent as the duke attended the Rugby League Challenge Final Cup.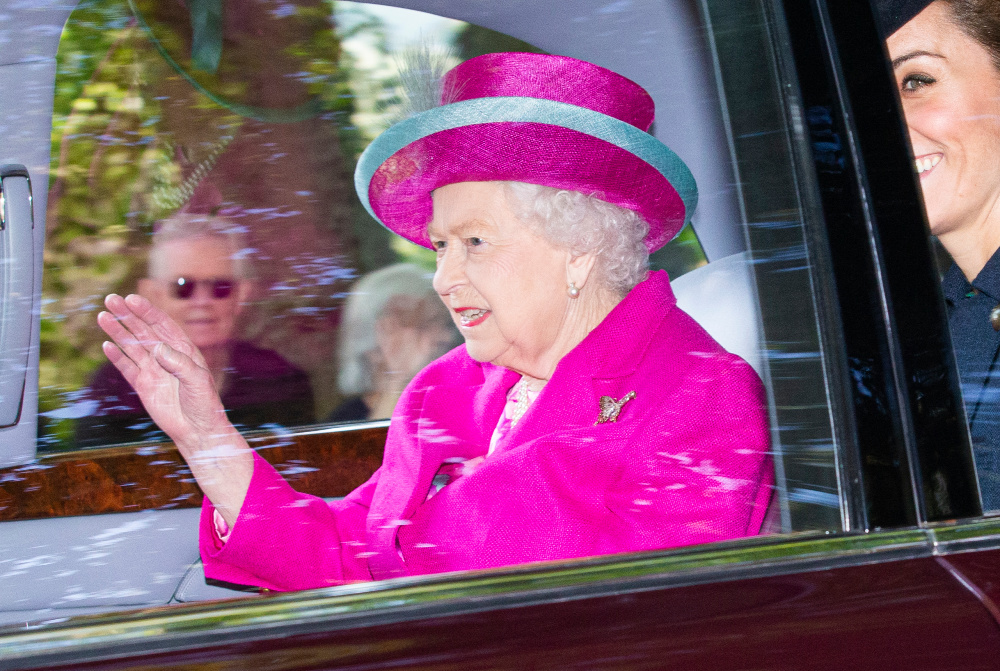 The Duke and Duchess of Sussex are just two of the royals that have been in the headlines for all the wrong reasons lately, with many outraged at the pair for taking private jets for trips, including one to see friend Elton John, over the past couple of weeks. Several media outlets across the world had claimed the pair should have flown economy, having previously publicly voiced their concerns on the issue of climate change and the environment.
However, it was later clarified by Elton himself that he, not taxpayers, paid for their trip to Nice in the south of France. The famous singer also explained he provided the private jet due to the "high level of much-needed protection" and paid for the flight to be carbon offset "to support Prince Harry's commitment to the environment".
"Prince Harry's Mother, Diana Princess Of Wales was one of my dearest friends," Elton said in post on social media. "I feel a profound sense of obligation to protect Harry and his family from the unnecessary press intrusion that contributed to Diana's untimely death. I highly respect and applaud both Harry and Meghan's commitment to charity and I'm calling on the press to cease these relentless and untrue assassinations on their character that are spuriously crafted on an almost daily basis."
Meanwhile, Prince Andrew has caused a stir due to his former friendship with now deceased billionaire Jeffrey Epstein. Just days before Epstein's death – who committed suicide in his New York jail cell earlier this month while he awaited trial on charges of conspiracy and sex trafficking – a lawsuit from one of his alleged victims was unsealed, which named Prince Andrew and other former high profile friends.
Andrew has since spoken out in a lengthy statement shared online my multiple royal reporters, claiming he never witnessed any criminal behaviour that led to his friend's arrest. In the long message, the Queen's son claimed to have spent limited time with Epstein throughout his life and said he clearly didn't know the "real" person the billionaire was.
"It is apparent to me since the suicide of Mr Epstein that there has been an immense amount of media speculation about so much in his life," the statement shared on Twitter read. "This is particularly the case in relation to my former association or friendship with Mr Epstein. Therefore I am eager to clarify the facts to avoid further speculation."
Andrew continued by explaining that he saw Epstein "infrequently" throughout the course of his life, after meeting in 1999, only once or twice a year. He also said he stayed at a number of Epstein's residence's over that time but never witnessed or suspected any behaviour that led to his arrest.
Andrew claimed he made a mistake in seeing Epstein after his release in 2010 writing: "I have said previously that it was a mistake and an error to see him after his release in 2010 and I can only reiterate my regret that I was mistaken to think that what I thought I knew of him was evidently not the real person, given what we now know. I have tremendous sympathy for all those affected by his actions and behaviour."