And matching her look perfectly was Studio 10 favourite Angela, who chose a vibrant green sequin dress for the event – with a very daring thigh split down one side. Showing off her figure in the stand-out gown, the presenter posed confidently for the cameras and showed off some classy nude shoes for the bash.
Unsurprisingly, she was quickly inundated with comments with her former co-star Jessica Rowe writing on Instagram: "Mermaid beauty!! Divine," while Edwina herself reiterated the comment by simply writing: "Divine." Deborah Knight added a series of star emojis to show her love of the look too.
And the Aussie TV greats had the honour of seeing some of the biggest names in TV and movies walk the carpet, as Catherine Zeta-Jones also made a statement alongside her husband Michael Douglas. Wearing a bright pink dress with a cut out panel across her chest and a thigh split to match Angela's the gorgeous mum couldn't fail to steal the show.
The dress finished in a dramatic chain flowing behind her, while Catherine also opted for a tight tied-up hair do. Posing arm in arm with Michael – who dressed to impress too in a smart suit – the Hollywood star towered in bright pink stilettos to match her outfit and even added long pink earrings to the ensemble.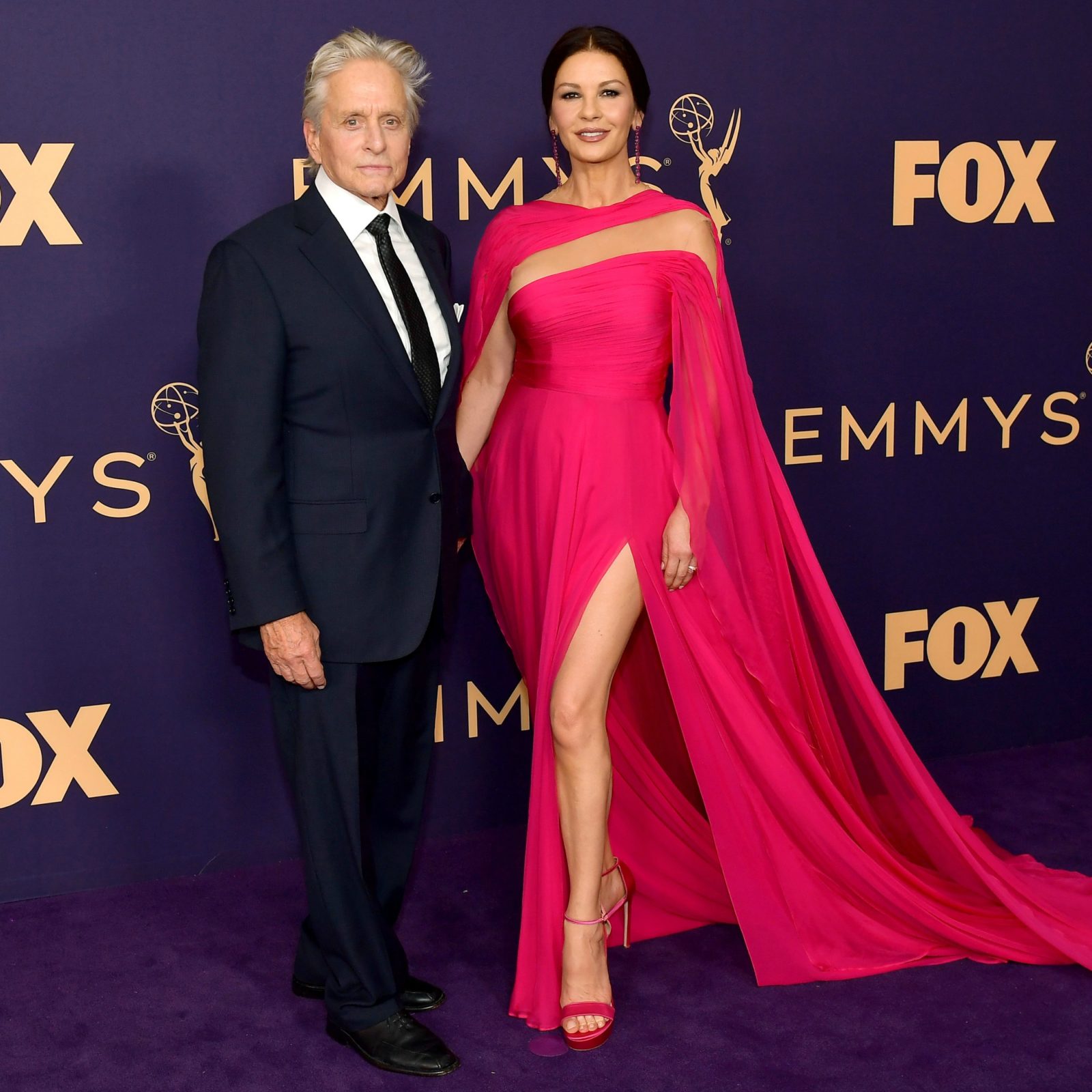 The annual event, held in Los Angeles, saw some defining moments too as Billy Porter became the first gay man to win Outstanding Lead Actor in a Drama for his role as ballroom emcee Pray Tell in US drama series Pose. In a moving speech, he quoted Arican-American novelist James Baldwin and said: "We are the people that get to change the molecular structure of the hearts and minds of the people that live on this planet."
Meanwhile, global sensation Saturday Night Live won Variety Sketch Series at the awards show – with boss Lorne Michaels paying tribute to original cast members Adam Sandler and late comedian Chris Farley in his own speech. Elsewhere, Michelle Williams dedicated her Best Lead Actress in a Limited Series or Movie win to her daughter Matilda – who she shares with late actor Heath Ledger.
And Patricia Arquette brought the crowd to their feet with a moving speech on equality after winning Outstanding Supporting Actress in a Limited Series or Movie for The Act – where she paid tribute to her late transgender sister, Alexis Arquette.
"I'm grateful at 50 to be getting the past parts of my life," she says, before calling for more trans acceptance," she reportedly said. "But, in my heart, I'm so sad. [Sad that] I lost my sister Alexis, that trans people are still being persecuted. I'm in mourning every day of my life, and will be, Alexis, for the rest of my life, for you… Until we change the world so that trans people are not persecuted. Lets get rid of this bias that we have everywhere."