The prince paired his outfit with a small pink flower which was tucked into his jacket to match his wife's pretty frock while he carried an umbrella and hat to add to the look.
During the event, the royal couple spent time chatting with Kerry Irving and his assistance dog Max. Several photos from their interactions were shared online with one showing the duchess giving the adorable pup a pat.
"In 2006, Kerry's car was hit by a truck, leaving him housebound with chronic neck and back pain," Kensington Palace wrote in a post on Instagram.
"Kerry still suffers with pain from his back injury, but he credits Max with helping him to get his life back on track. Kerry has since retrained as a locksmith and Max is always with him."
The post continued: "Kerry and his wife Angela have held dog walks to give other people the chance to spend time with Max, and helped raise money for local rehoming centre @EdenAnimalRescue."
Catherine and William were joined by the Queen at the royal event which is the second of a string of garden parties set to be held at the residence over the coming weeks.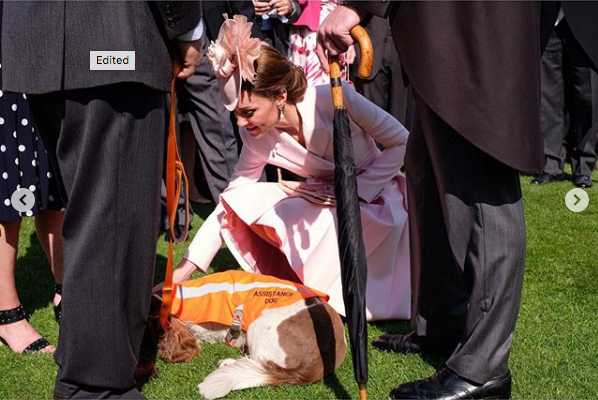 The garden parties are deemed an important occasion for the royals who are given the opportunity to mingle with members of the public who have made a positive impact in their community.
At each event, around 27,000 cups of tea are served to excited guests along with 20,000 sandwiches and 20,000 slices of cake. While not held inside the palace, the parties are still considered quite formal with men asked to wear morning dress or lounge suits, while women are invited to wear a day dress and a hat or fascinator.
Read more: Princess Anne and Camilla dress to impress in beautiful frocks and hats
For Tuesday's gathering the Queen sported a lovely powder blue coat over the top of a beautiful floral dress in shades of pink, blue and orange. Her Majesty looked stunning as she greeted guests including those from government departments, the services, the church and other faiths.
Are you a fan of the royal family? What do you think of Catherine's outfit choice?