Another image from the magazine showed Celine wearing an oversized neon green fleece jacket, paired with roll-hem blue jeans and a pair of stiletto heeled boots which featured fringing detail and a statement silver buckle on the toes.
For this look Celine, who was crouched down and staring seductively at the camera, had her wig slicked down across her forehead, while she changed up her make-up by adding a peach lip and winged eyeliner.
Another image from the shoot was also shared by the world-famous performer, showing her dressed in a dramatic black and white striped gown, featuring huge puff-ball sleeves decorated with small white polka dots.
Sticking with the style from the rest of the shoot, Celine's eyes were coated with dark eyeliner and eyeshadow, while her cropped wig was this time styled into a statement '60s style.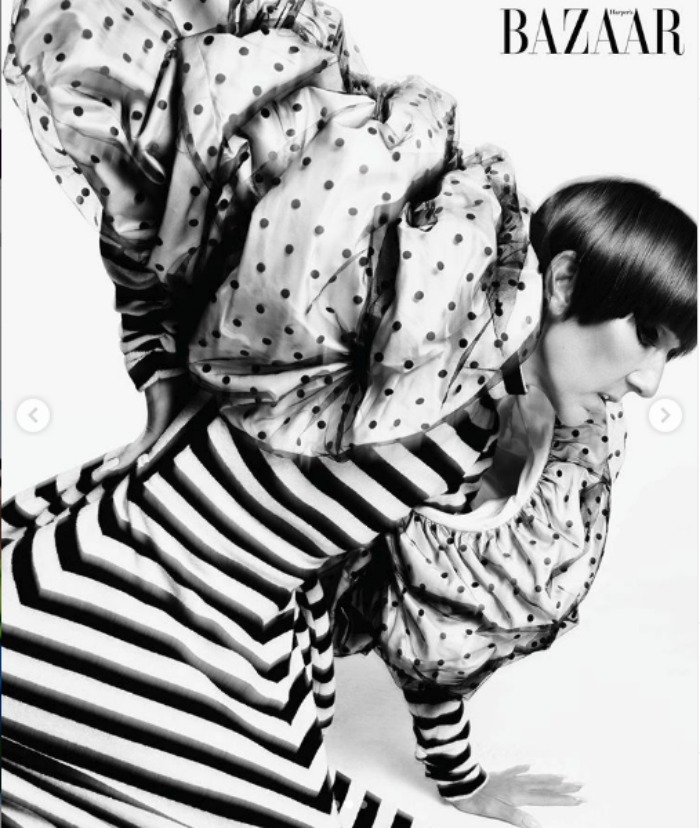 Earlier this week Celine made headlines when she shared an open letter on her Instagram page, jumping to the defence of her rumoured toyboy lover Pepe Munoz and shutting down false claims that the back-up dancer has allegedly been isolating the star from her loved ones.
On Monday, Page Six published a story that alleged the 51-year-old singer's inner circle were worried Pepe, 34, who is also her creative director, was "taking over" her life ever since husband Rene Angelil passed away in 2016.
However, in a statement released on Celine's Instagram page on Wednesday – directly addressed to Pepe – several members of her team slammed the "untruthful" report, saying that they were "saddened and disappointed".
"Dear Pepe, as the real members of Celine's 'inner circle,' we are saddened and disappointed by an untruthful story that surfaced in the media on Monday, quoting multiple sources who claim they are part of the inner circle and that you have too much influence over Celine, and that you are isolating her," the statement from Celine's team read.
"These 'sources' have nothing better to do than to spread untrue gossip. Don't let it get you down… and keep up the great work. We love you!"
The letter was signed off by the singer's 'inner circle' including Dave, Dee, Denis, Lina, Michel, Naomi, Suzanne, Sydney, Sylvie and Yves.
Are you a fan of Celine Dion? Do you think she has a good sense of style? What do you think of these new photographs of the star?