The duchess matched perfectly with her husband Charles who chose a traditional red and green kilt for the occasion, along with a pair of long red socks. Looking very formal the prince sported a white shirt, underneath a black vest and jacket, as well as a tie with the same colouring as his kilt.
It was a busy day of events for the royal couple who carried out engagements in Dumfries and Galloway. First off the pair visited the Bladnoch Distillery where they were given a tour of the production area and enjoyed a taste of some whisky, before officially opening the new visitor centre.
Next up they made their way to the Garlieston Secret War exhibition where they learnt about the coastal town's important role in D-Day preparations in 1994. Following this it was a visit to Moat Brae House and Gardens which is apparently thought to be inspiration for J.M. Barrie's 'Peter Pan'.
The royal family also shared some snaps of the outings with the prince and duchess both sporting huge smiles on their faces as they greeted residents who eagerly awaited their visit. In one photo Charles could even be seen giving a young fan a big hug as he stopped for snaps with a flurry of people outside.
Many have since taken to social media to praise the couple for connecting with the public, while others have expressed their happiness to see Charles and Camilla looking so content in each other's company. "Lovely to see them attending these events together, both looking great in tartans," one person wrote on Instagram.
While another commented: "I would love to meet this couple. They are fabulous." And a third said: "These days Charles seems to be very happy and content!"
This isn't the first time Camilla has changed up her style stakes, stepping out earlier this week in a bright pink ensemble alongside Prince Charles and her mother-in-law the Queen for a royal outing. Standing out from the crowd, the duchess swapped her usual more subtle coloured outfits for a gorgeous pink coat dress with a tartan collar and a red hat placed firmly on her head.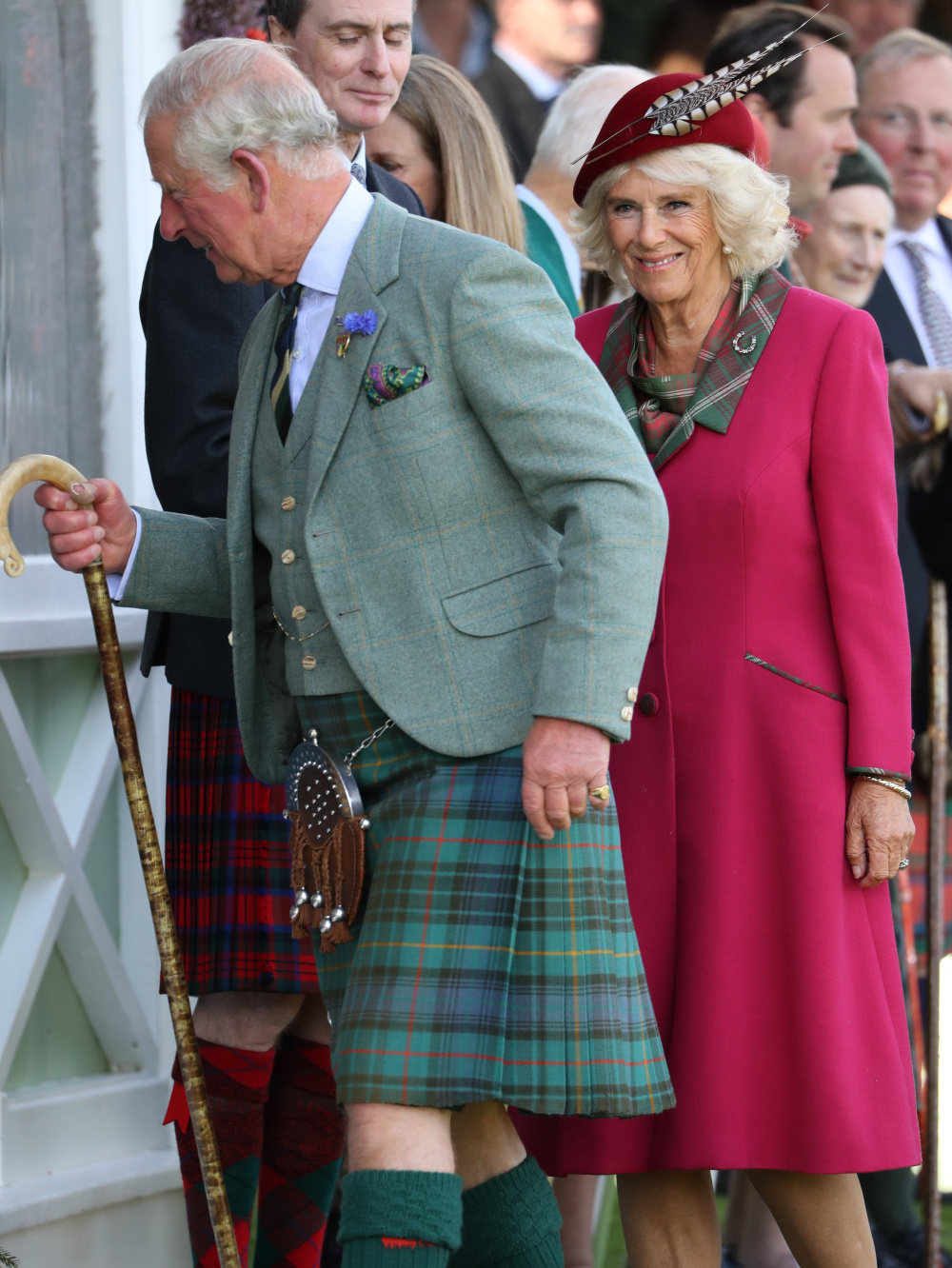 Smiling broadly at the crowds, the 72-year-old looked lovely as she joined her husband his mother the Queen for the Braemar Gathering at The Princess Royal and Duke of Fife Memorial Park.With her blonde locks styled in their usual down and slightly waved hair-do, Camilla beamed as she eagerly watched on the many competitions and performances including hammer throwing and a tug of war. Meanwhile, she accessorised with a pair of pretty pearl earrings and a simple silver bracelet.
Closely beside her throughout the day's events was Charles, 70, who braved the chilly weather in a traditional green tartan kilt, which he matched with long dark green socks, a white shirt,  light green vest and jacket. Clearly enjoying a fun outing with his wife and mother, the prince smiled broadly as he sat front and centre watching on.