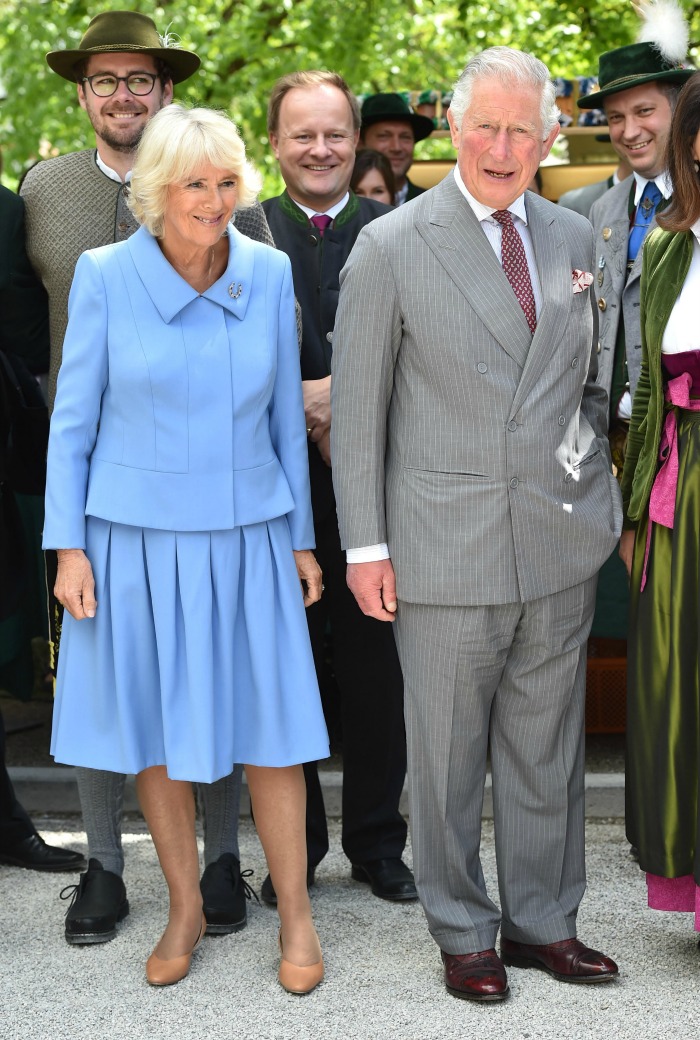 As part of the visit the duke and duchess tasted some delicious honey and mingled with children at the farm's kindergarten for a pretzel making workshop.
Taking to Instagram with a selection of photos, the royal family shared snaps of the pair enjoying a hands on experience at the farm for the final day in the gorgeous country.
"Thank you for a wonderful welcome this week during Their Royal Highnesses visit to Germany," the post read.
It added in German: "Thank you so much for welcoming the Prince of Wales and the Duchess of Cornwall to Berlin, Leipzig and Munich this week! Now this fantastic royal visit to Germany comes to an end."
While the last outing was more laid back, earlier in the week Camilla and Charles dressed to impress at a special state dinner hosted by Christian Social Union party leader and Minister President of Bavaria Markus Soeder.
The duchess stepped out in a stunning floor-length gown featuring a blue star pattern. The royal looked beautiful in the dress alongside Charles who opted for a smart black suit and bow tie for the occasion.
Their visit to Germany came just days after Prince Harry and Meghan welcomed their first child Archie to the world.
Speaking about his newest grandson shortly after touching down in Germany Charles admitted he and Camilla were yet to meet the youngest member of the royal family.
While the trip had a very specific schedule to follow, including visits to the cities Berlin, Munich and Leipzig, that didn't stop the public from questioning the pair about their newest grandson – who was welcomed into the world in the early hours of Monday (UK time). They also received a flurry of gifts for the newborn.
According to The Sun, Charles said he is "delighted" with the arrival of the bub and is looking forward to meeting him upon their return to the UK.
In a chat with German President Frank-Walter Steinmeier, the proud grandfather reportedly explained how excited they are to spend some time with the newest member of the royal family.
"We couldn't be more delighted at the news and we're looking forward to meeting the baby when we return," he reportedly told Steinmeier.
Read more: Grandparents again! Proud Charles joins Camilla as she steals the show in white
Later in the day during a visit to Berlin's Brandenburg Gate, the 70-year-old also joked with a royal fan about how many grandchildren he now has.
According to The Sun, Charles said in response to a congratulations comment: "Thank you, I'm collecting a rather large number of them."
Are you a fan of Camilla? What do you think of her fashion choices?