Also present for the day out was Scott Morrison's wife Jenny who looked lovely in an orange and pink maxi skirt and white blouse. The 51-year-old styled her brunette locks down in soft waves and sported light pink shoes to pull the outfit together.
Melania on the other hand went for a blue and white colour theme for the outing in a gorgeous fitted dress. Her beautiful hair flowed in the breeze as she stood confidently with the six women.
There have been an array of impressive outfits on display from the women the last few days with Brigitte sporting a designer brand Louis Vuitton dress for a visit to the Villa Arnaga in Cambo-les-Bains on Sunday. The mother-of-three accessorised with a chunky pair of heels, also by Louis Vuitton, and was spotted giggling with the other women on the tour as they drank wine, picked flowers and were entertained by traditional dance performances.
In contrast, Jenny Morrison stunned in a simple pair of white trousers, a flowy pink top and wore her brown locks in a straight style. The 51-year-old wife of Scott Morrison looked in her element as she posed with the other women for the day's festivities.
Malgorzata Tusk – who is the wife of the European Council President – opted for a gorgeous yellow number, while Melania put her fashion foot forward in a chic all-white ensemble. Of course, the latest outing was just one of many where Brigitte has shown off her style and proven once again that she's capable of pulling off a number of interesting looks.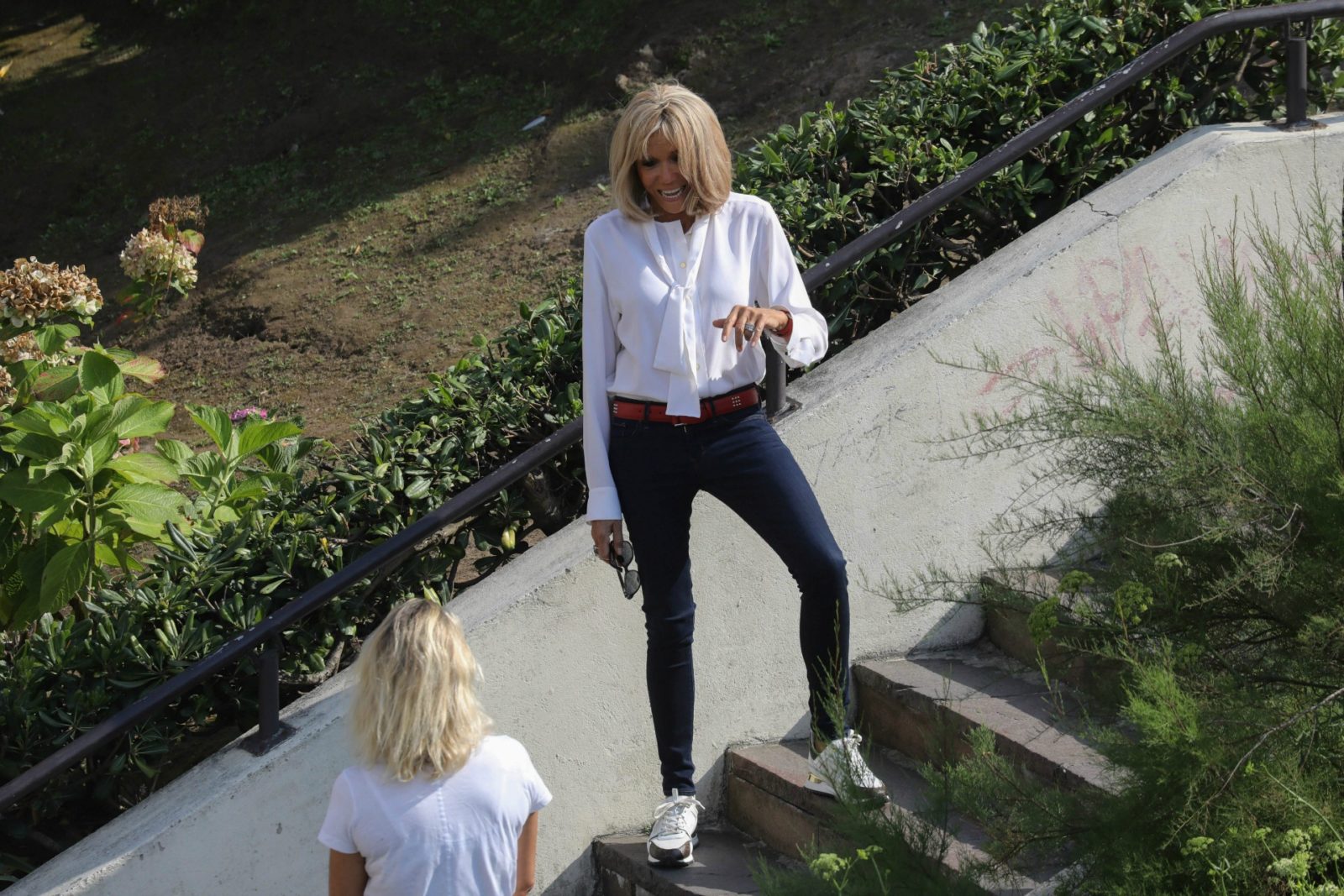 Also on Sunday, Brigitte joined the likes of Donald Trump and Melania, Chile's President Sebastian Pinera and his wife Cecilia Morel and her own husband for another glitzy event. This time, Brigitte sparkled in a spectacular silver number. She changed things up once again by wearing her hair in a slightly different style and looks as elegant as ever in a white pair of heels. It was Melania this time who opted for red, while Cecilia turned heads in a stylish black outfit combo.
On the second day of the summit, the 66-year-old showed the world that casual can also be stylish and was spotted rocking a pair of denim jeans and sand shoes. Complete with a white scarf, top and matching trainers, Brigitte this time accessorised with a bright red belt to add a pop of colour to her ensemble. Her iconic blonde bob was perfectly groomed for that outing.
A day earlier she was spotted in a figure-hugging beige number. That look was complete with a pair of tan stilettos and featured some gold buttons on the side to add some added sparkle to the outfit. Melania previously took to Twitter to praise Brigitte for her hospitality and shared an array of photographs from the G7 summit.
"Thank you President Macron and Mrs Macron for a beautiful welcome to Biarritz," she wrote, alongside the collage of photos.