The choice of your first car was probably influenced by two things: cash and cool.
After all, your early years are all about fun, not necessarily function, and usually on a budget.
But buying a car later in life is a whole other ball game. Some people may have money to spare for luxuries for the first time, while others have physical constraints that mean comfort is key.
Starts at 60 reader Margaret Pelton currently drives a sporty Audi TT but says she needs to update it with something a bit more "sensible," while still having a fun edge to it. And although she normally uses public transport around Brisbane, Margaret loves to visit friends outside the city so needs something that can go the distance.
So we followed Margaret on a car-hunting expedition to a BMW dealership in her home town.
Margaret had some criteria in mind; she wanted something that she didn't need to climb into, or stoop to low to access. The 70-something was also looking for doors that weren't too heavy, and particularly a boot she could open easily or, preferably, opened by itself.
Margaret took a BMW X1 for a test drive and was surprised at what she found.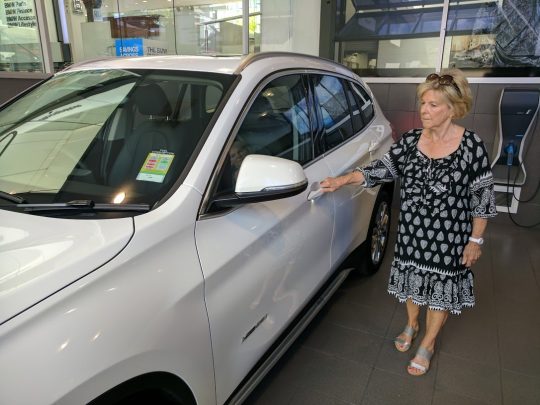 "It is a much bigger car than I am used to driving, but it didn't feel it," Margaret said. "I thought it was going to feel absolutely huge to me, but it's not."
There was one special feature she was especially looking to test out: the electric boot, so Margaret was delighted to find it not only opened with the push of a button, but also with the swipe of her foot.
A prestige car like the BWM comes with lots of extra details.
"I'm not familiar with keyless entry at all," Margaret said, as she was being shown around the vehicle.
There's also a rearview camera and added feature of 'park assist,' which does the parking for you. A phone app helps you find your car if you can't remember where you parked, or turning on the air conditioning before you get in. And a driver-profile memory will adjust the seat position, mirrors and other features to your preferences.
Margaret was keen on being able to access Bluetooth and digital radio.
"Being in the car is the one time I listen to the radio," she said.
Fresh from a test drive, Margaret's verdict was "terrific."
"It was very easy. It almost does it for you," she said.
But was she sold? Margaret is still tossing up her options.
What specific features do you look for when it comes to buying a car?