It caused Sun to scream at his British opponent from the top step of the podium before the Chinese national anthem was played. He also clenched his fist in Scott's direction.
The drama only continued as the swimmers left the podium area, with Sun waving cheekily at Scott as he walked past. At this point the audience started to boo, causing Sun to turn around and confront Scott.
"You're a loser," he told his British opponent, pointing his finger in his face. "I'm winning. Yes!"
FINA, swimming's world governing body, issued a statement following the incident.
"The FINA Executive met today in Gwangju (KOR) to analyse the situation occurred during the men's 200m free victory ceremony and has decided to send a warning letter to athletes Duncan Scott (GBR) and Sun Yang (CHN)," the statement read. "Both competitors had an inadequate behaviour on this occasion, which is not acceptable in accordance with the FINA Constitution Rule C 12.1.3."
That came after FINA, handed him a warning over alleged incidents at his home in China last September, which took place when a doping control team attempted to take blood and urine samples. It's claimed he smashed vials of his blood with a hammer at the time.
Meanwhile, Horton's decision not to stand on the podium with the world champion saw him slapped with a warning letter from the sport's governing body.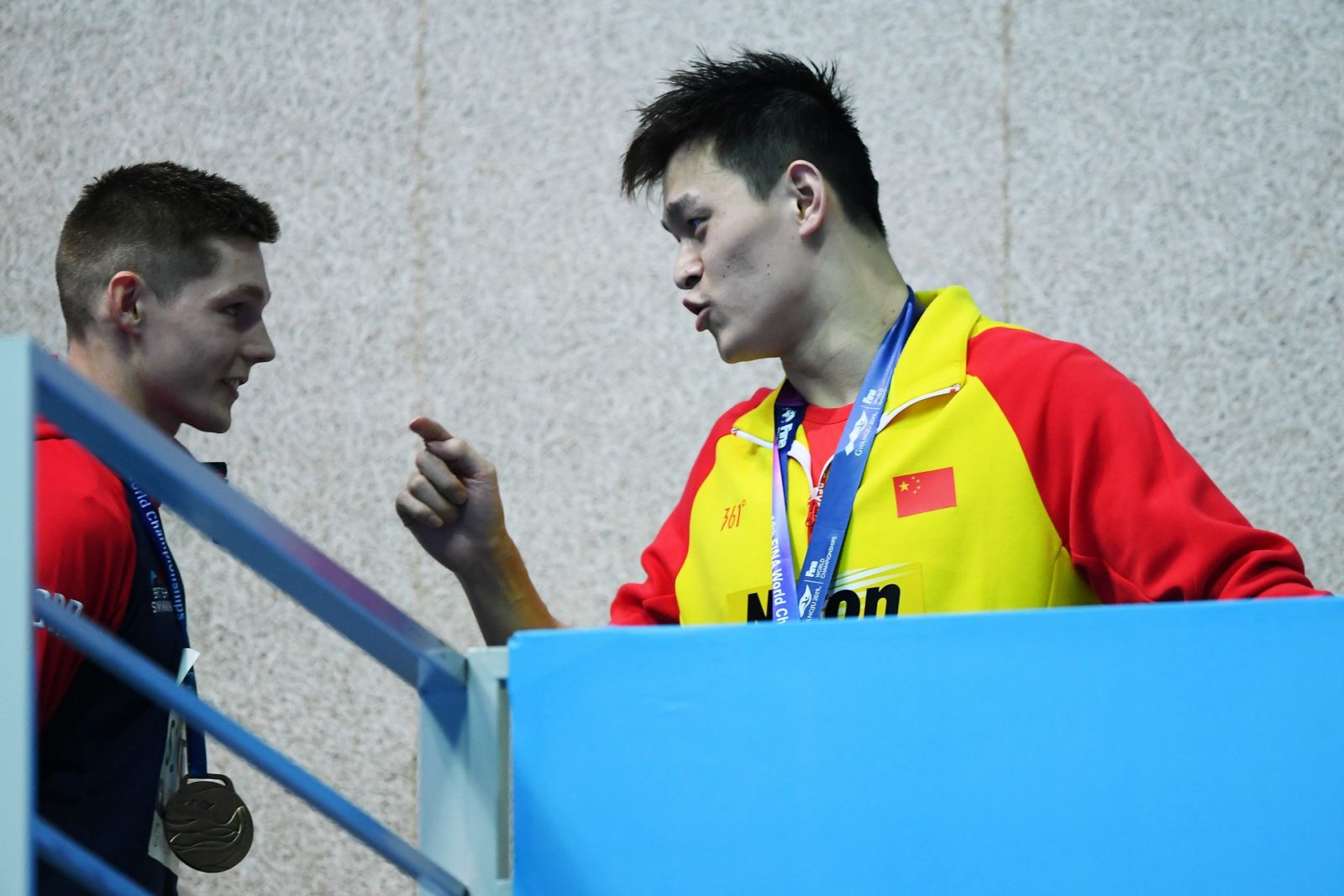 Horton sparked a fierce debate online after he refused to share the podium with Sun last week, despite finishing second behind his rival in the world championships on Sunday. Just like Scott, Horton refused to pose for photos with his rival, instead standing back and having one alone with bronze medallist Gabrielle Detti of Italy.
"While FINA respects the principle of freedom of speech, it has to be conducted in the right context," the sport's global governing body said in a statement. "As in all major sports organisations, our athletes and their entourages are aware of their responsibilities to respect FINA regulations and not use FINA events to make personal statements or gestures.
"The matter over which Mack Horton was allegedly protesting is currently under review by CAS and therefore it is not appropriate for FINA to prejudice this hearing by commenting further."
Do you think Sun Yang was right to react how he did, or is Duncan Scott in the wrong?