It's now also more efficient – shock, horror. Efficiency has improved by 16 per cent, thanks to cylinder deactivation that allows six cylinders to be shut off to save fuel, with its 90L fuel tank capable of offering up to 800km of driving range. Official claims put mixed-cycle consumption at 13.6 litres per 100km.
Torque is sent to the wheels through an eight-speed dual-clutch transmission, and as previously, torque is sent to all four wheels. More on how it drives later on.
Open the driver's door and it's right down to business. There isn't an inch of this interior that doesn't feel luxurious or built with absolute precision. Every surface is covered in leather or carpet, while the level of customisation on offer is unheard of.
Read more: Continental news, reviews, comparisons and videos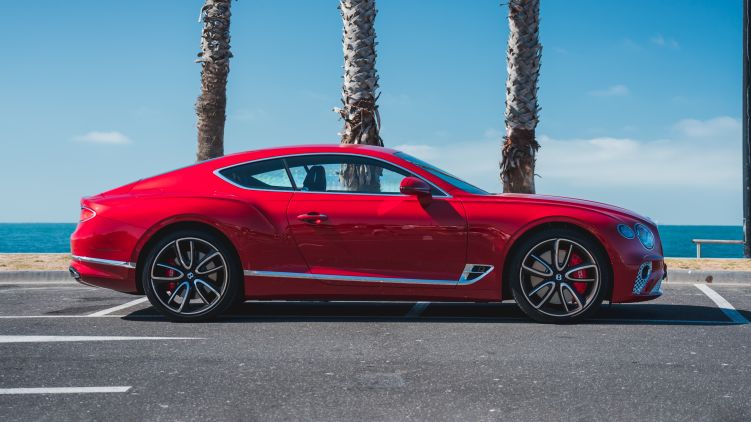 Bentley's Mulliner customisation arm will gladly create a bespoke vehicle for any customer that should desire it. They'll colour-match, use specific wood elements, and even offer a variety of cow hide to match your tastes – the opportunities are virtually endless.
The new interior centres around an awesome new infotainment system that measures 12.3 inches and comes with Apple CarPlay and Android Auto. The colour touchscreen is high resolution, fast, and offers a full array of features including an awesome 360-degree camera, high-definition maps and vehicle connectivity.
Ahead of the driver is an LCD display that can be customised to show a number of displays, including a traditional analogue speed and tachometer display.
By far the coolest option available is a tri-faced rotating display. By pushing a button, the infotainment screen can physically rotate out of position to become a flat wood or piano-black surface. Another push of the button then rotates that surface out of the way to offer three analogue gauges. It's a work of art.
Beneath the screen is a centre stack with buttons for climate controls and the vehicle's drive modes. This part of the vehicle I wasn't as impressed with. Some of the switchgear felt a bit cheap and nasty, and nowhere near as premium as the rest of the cabin. These bits aside, the rest of the cabin's switchgear is top notch – the knurled metal bits are supremely cool.
Briefly – the sound system is bang on. It's loud, clear and immerses you in noise when you're sick of listening to the engine and exhaust (which rarely happens). Rear leg and head room are also actually quite good. I was able to squeeze into the back behind my regular seating position and it was a comfortable place to be.
Cargo capacity comes in at 358L, and is big enough to fit a set of golf clubs or two medium-sized suitcases side-by-side.
How does it go? This is the part that really blew me away.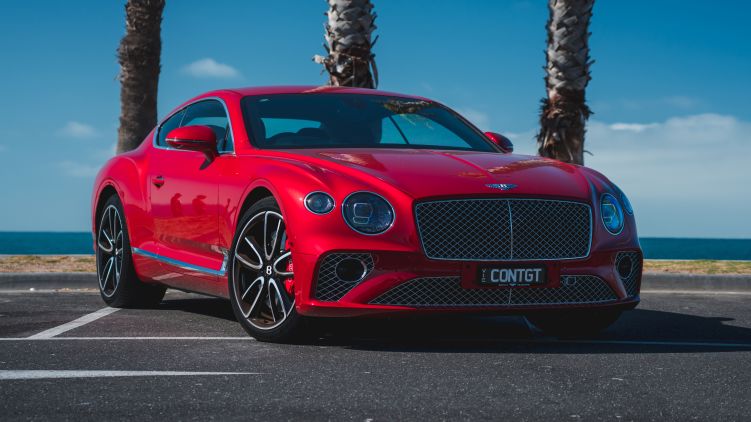 Kick the engine over using the starter button located on the centre stack, and there's a hearty burble that eventually settles to a murmur. Prod the throttle at idle and you can hear the potential buried within that bank of 12 cylinders.
The drive-mode selector (Bentley calls it Bentley Driving Dynamics) offers the driver four drive modes – Comfort, Bentley, Sport and Individual. When slotted into Comfort, up to 38 per cent of torque can be sent to the front axle and the ride is beyond sublime – even on 22-inch alloy wheels.
That's because the air suspension system uses three-chamber air springs that offer 60 per cent more air volume than the previous generation. And, the Continental uses a 48V system that interacts with actuators in the anti-roll bars to resist body roll – it can deliver up to 1300Nm of torque in just 0.3 seconds to the anti-roll bar in an attempt to limit body roll.