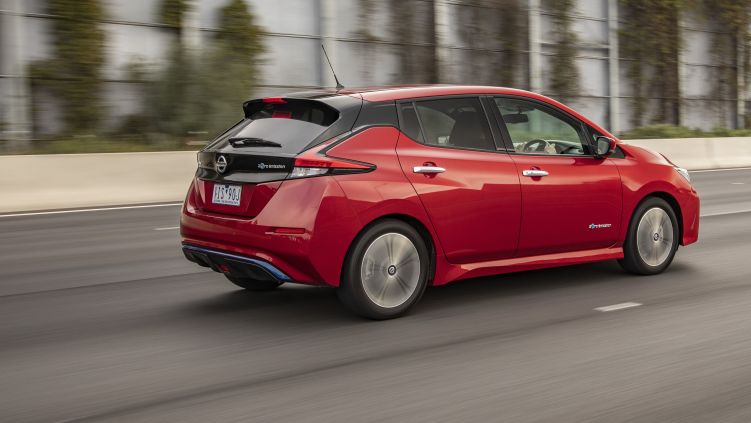 The new Leaf has a 40kWh lithium-ion pack, a 110kW/320Nm motor and a real world driving range of 270 kilometres – given average consumption of around 14kWh per 100km, which this writer managed without much fuss. It also uses many parts cast in Australia at Nissan's 24/6 Dandenong plant.
The headline figure is 40km more driving range than the 28kWh Ioniq, which is the Leaf's obvious competitor. As we've already published, the Nissan wears a list price of $49,990 before on-road costs, which is $5,000 more than the base Ioniq Elite and $1,000 more than the higher-specified Ioniq Premium.
As you may know, there's a 60kWh Leaf coming on stream in the US to tackle the Model 3 and Chevy Bolt, but it's not on the radar for Australia yet. We're not a core EV market and have to temper expectations accordingly, it seems.
Read more: Leaf news, reviews, comparisons and videos
But let's be real: there's plenty of data showing the average Australian urban-dweller covers 15,000km per year at most, or a daily average of 40km per day. For some of these people, a potential range of hundreds of kilometres is not actually necessary.
How long does the Nissan Leaf take to charge? You can fill up the Leaf from empty within 24 hours using a household wall socket, but if you spend around $2,000 to buy and fit a 7.2kW/32A home charging unit, that is cut to 7.5 hours. A public DC CHAdeMO rapid charger will get you to 80 per cent in about an hour, though the majority of EV owners charge at home or the office.
On a side note, one nifty feature the Leaf offers is the requisite hardware for bi-directional charging via a PCM. This means the Leaf can actually charge off-peak and then power your house or business later, becoming a mobile power station/energy cloud. This is being trialled in Australia for 2020 launch.
One of the cool things about any EV is the actual driving experience. Obviously there's no exhaust note, but there's an instantaneous hit of torque that punts you away from intersections very quickly. The 1,594kg Leaf's 0-100km/h time of 7.9 seconds is sprightly enough for some fun.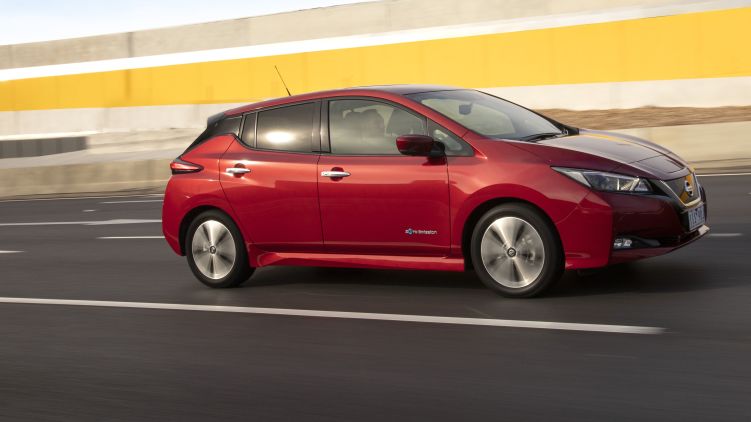 The other thing to adjust to is the regenerative braking system that captures wasted energy and sends it into the battery. The switchable Eco Pedal decelerates the car at up to 0.2g when you lift off the throttle, using friction, meaning you scarcely need to touch the brake pedal.
That's a good thing since, like many regenerative systems, the brake pedal feels quite wooden and takes some getting used to. Expect to misjudge your stopping distances a few times until you become familiarised.
Nissan claims to have made some improvements to the Leaf dynamically. It's fitted a quicker steering rack that requires smaller inputs, and a clever system that gently brakes any of the four wheels if the car is deviating from your intended line. There's also more sound-deadening material to keep road roar at bay – important given the lack of engine noise.
As an urban runabout, the Leaf is in its element. The steering is light yet direct enough, and the suspension is soft and pliant over bumps and ruts. There's also a satisfying lack of tyre and wind noise at highways speeds coming into the cabin, disturbing the serenity. Below 30km/h it emits a hum to alert pedestrians and cyclists to its presence.
There's also a decent array of driver-assistance features in the Leaf, headlined by autonomous emergency braking with pedestrian detection, blind-spot monitoring, lane-departure alert that buzzes the steering wheel when you leave your lane without indicating, a 360-degree view camera, active cruise control, rear cross-traffic alert and driver-attention alert.
However, the ProPilot partially autonomous steering assist system that Nissan offers in some markets hasn't come to Australia yet. There are plenty of cars now on sale here that steer between road lines, so it's a shame the Leaf isn't among them. The Leaf's system instead will "brake the inside wheels to gently help guide you back".
The Leaf's cabin is not flashy, but does offer the best infotainment system of any Nissan: an 8.0-inch touchscreen with clear mapping and digital radio, plus Apple CarPlay and Android Auto smartphone integration. There's also a 7.0-inch TFT screen ahead of the driver with a digital speedo and a heap of sub-menus showing battery use, music, trip info etcetera.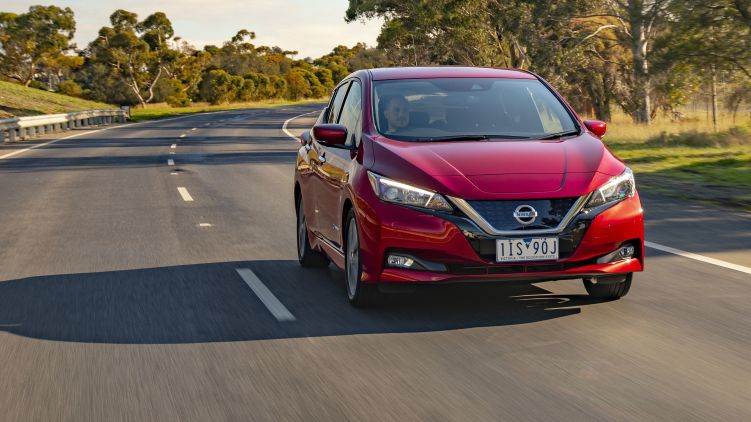 Other standard features include climate control (though the centre screen warns you how many kilometres of range you're losing by using it!), a proximity key, rain-sensing wipers, auto LED headlights, a heated steering wheel, and heated seats for both rows trimmed in leather and Ultrasuede.
There are some quirks though. The foot-operated manual parking brake is no good, and so is the lack of telescopic adjustment on the steering column. Also, the nifty rear camera mounted in the rear-view mirror fitted to Japanese Leafs isn't fitted to Australian models.
At just under 4.5m long the Leaf isn't a large car, but there's enough legroom and headroom in the back for two 180cm adults to be comfortable, while the boot is a generous 405L (bigger than in the Volkswagen Golf).
From an ownership perspective, the Nissan Leaf is covered by a five-year warranty, except for the battery which has an eight-year/160,000km warranty period. Nissan tells us the warranty applies if the battery status/health drops below 9 bars out of 12 in this period, meaning any density degradation of less than 25 per cent is not covered.
Read more: Everything Nissan
From an infrastructure perspective, it must be said that Nissan has taken a considered approach to the Leaf. It has signed up 89 of its dealers across the country to sell and service the Leaf, with staffers getting the requisite training. Getting such a buy-in from its franchise partners is vital in actually making the car a sustained success this time around rather than a marketing exercise.
It has also appointed Australian company Jet Charge to install and service EV charging hardware and software at these dealerships, adding to the growing number of public chargers here (783 sites according to ABS data from June 2018, no doubt eclipsed today). This is the same provider that can work with you on getting your home/office wall-box sorted before delivery.
Beyond this, Leaf owners will receive discounted rates when they use Chargefox fast charging stations nationally. This startup is billed as "Australia's biggest and fastest-growing open charging network for modern EVs".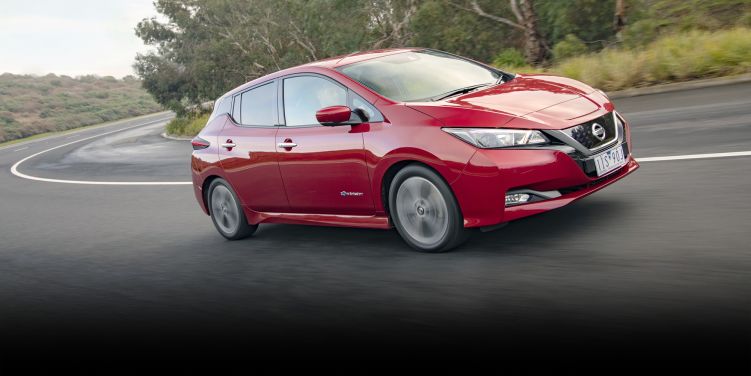 One question is, does the Leaf EV make financial sense? The average energy price in Australia is 30c per kWh, much less off-peak. If you do an average of 280km per week, you'll spend between $6 and $12 charging your Leaf. If your ICE car uses 10L/100km of petrol at $1.50 per litre, your weekly fuel spend is $42. The Leaf's mechanical simplicity also makes it cheaper to service.
Of course, the $50k outlay isn't cheap, but it's aligned well enough with the Ioniq. If you need more range, the $60k Kona Electric or $66k Tesla Model 3 will cover above 400km between charges. But, for an urban runabout, the Nissan offers sufficient storage, especially if it sits in the garage alongside a combustion or hybrid car for longer getaways.
Read more: Jaguar I-Pace v Hyundai Ioniq v Nissan Leaf v Tesla Model S v Renault Zoe
In all likelihood, if you're seriously looking at an EV you've done the requisite homework. Many prospective buyers are simply people who want to be part of the change, or big fleets with self-imposed emissions targets.
Beyond this, Nissan's early embrace of electrification surely means it has earned credibility in this burgeoning market sector. The second iteration Leaf is an easy-to-operate, silent urban companion that opens the door to zero emission motoring, and deserves commendation.
Would you ever consider purchasing an electric car? What are your thoughts on the new Nissan Leaf?