"Time for him to go. Put someone on who actually has a clue. Someone who can call someone in for an interview and actually have an interview and not simply bully and talk over them the whole time."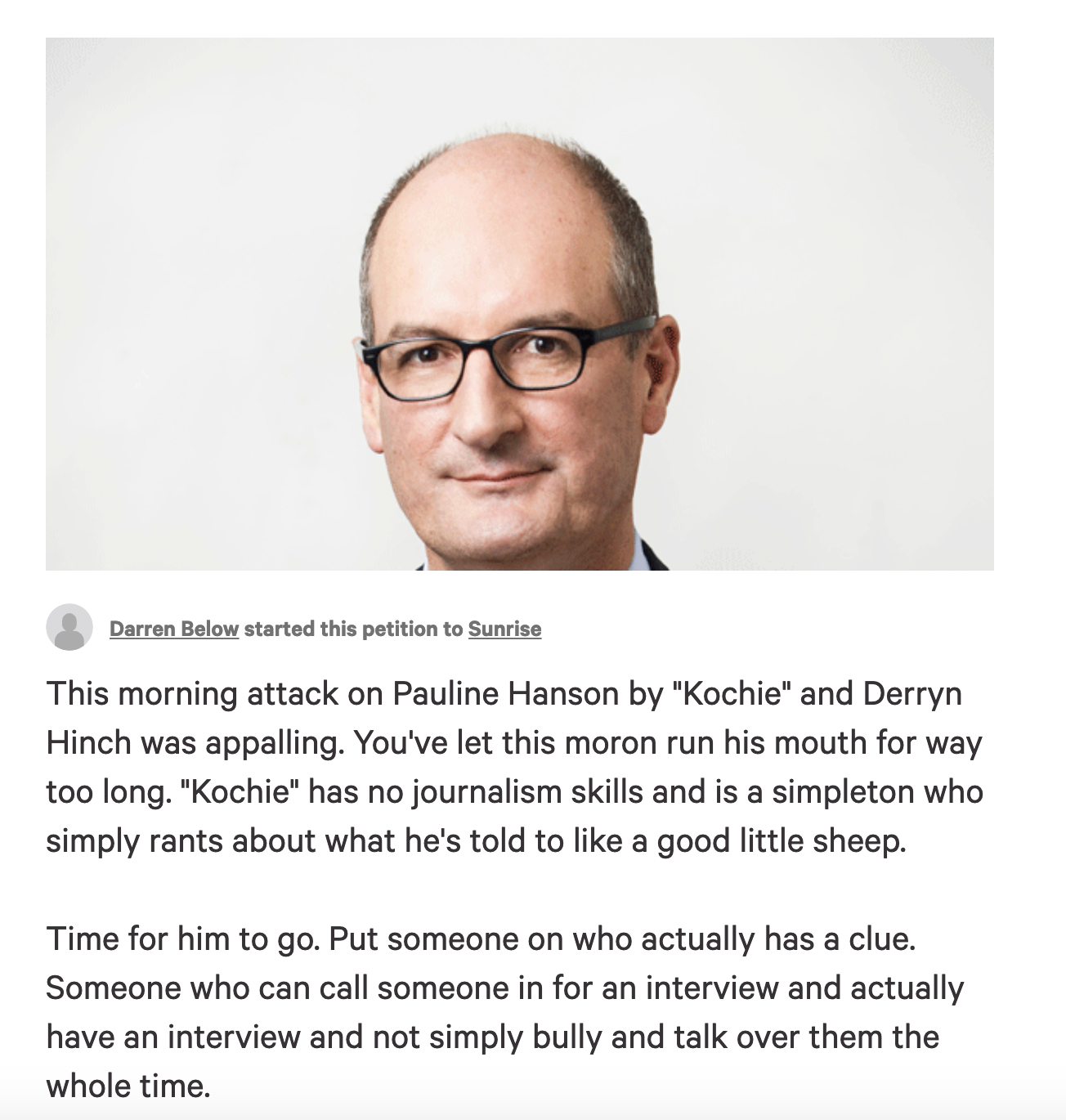 The Queensland Senator appeared on the morning TV show on Monday morning, when Kochie broached the topic of One Nation's "anti-Muslim policy" and suggested the beliefs held by Hanson's party could "empower white supremacists".
"This terrorist manifesto reads like One Nation immigration and muslim policy," Koch said. "Do you in any way feel complicit with this atrocity?"
After being asked to explain by Hanson, Koch added: "The anti-Muslim rhetoric that you espouse constantly here, that you did in your maiden speech when you came to parliament in 2016. Do you understand?"
Hanson responded by saying she "feels for these people", adding: "I feel for those families that have lost their lives. We have problems but you have actually got to discuss it and debate the issues.
"Why [do] we have these terrorist attacks in this country? Why is it happening around the world?"
Following the televised row, Hanson took to social media to share two videos after Kochie and Hinch failed to "allow her to answer on Sunrise".
She said: "Your comments are suggesting you thought I was being bullied and I was shut down. It was an ambush. Well I felt that way too because I haven't been able to explain myself properly and answer the questions.
"I know how you feel because you feel exactly the same way. You feel that you don't have a voice, that you're shut down as well."
She continued: "I challenge, has David Koch or Derryn Hinch actually read my immigration policy? They're quick to criticise me but when I get out and I speak to people, I know how you feel because I feel exactly the same way.
"People in our society are in fear of the ever-changing society that we now live in. I do not condone the terrorist attack in New Zealand in any way, shape or form. My heartfelt sympathy goes to those people that have lost their lives or their loved ones, the same as it did for all of the other terrorists attacks that happened throughout the world, including on our own soil."
What are your thoughts on this story? Do you think Kochie attacked Pauline Hanson or was it a fair debate?