She initially called the troll out on Instagram by sharing the comment, which read: "Don't worry about her Deb! Focus on fixing your hair cut… bloody shocking."
Deborah captioned the post: "Ah the joys of social media. No my hair wasn't 'done' for my interview with @senatorpaulinehanson – nor was my makeup the full tilt. I literally just jumped on a plane with no time. I know it's a visual medium but but sometimes the substance is more important than the style."
Now she has addressed the importance of focusing on the substance of the interview and the questions instead of TV stars' appearances on screen, in her first-person piece for 9 Honey.
Deborah claimed she was called late on Thursday by Today Show Executive Producer Steve Burling, who told her she had 40 minutes to get to the airport to fly to Brisbane for the chat – forcing her to rush round, leave her sick husband in charge of her kids, and prepare her interview.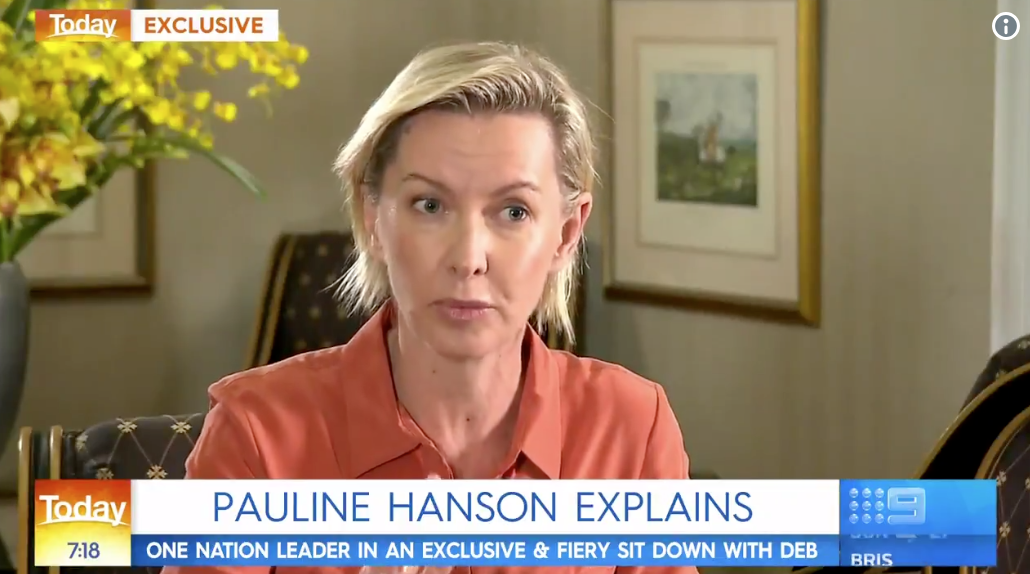 "My husband was at home sick with the lurgy, so I was able to hand over the afternoon madness of homework, dinner prep and play with the three kids to jump in the car and arrive at Sydney airport just as the flight was boarding," she wrote.
"TV is a visual medium, so makeup and hair artist extraordinaire Norman Gonzales also made the dash to join me on the flight, and as I had literally just jumped out of bed after my afternoon siesta when I received the call to go, I did need all the help I could get to look presentable on national TV."
However, she added that they were sitting apart on the plane so they were forced to "improvise" with just a basic layer of make-up and "quick burst of hair spray" – but that was never her focus either way, instead intent on asking the right questions in the all-important chat.
Expressing her shock at then seeing the mean comment, she concluded: "I ignore most of the tripe that is sent my way on social media, but I do like to call out and share the comments that I think are just plain ridiculous. And this comment was that."
Read more: Pauline Hanson refuses to back down in explosive TV clash with Deborah Knight
She added that while appearance is important on TV, the substance is more important – particularly this time when she needed to focus on the right questions to hold Hanson "to account"
What do you think? Should Deborah have been judged on her appearance like this?