The Chocolate Tin is the highly anticipated, sensuous new blockbuster by the beloved bestselling author of The Perfumer's secret, Fiona McIntosh.
Alexandra Frobisher is a modern-thinking woman with hopes of a career in England's famous chocolate-making town of York. She has received several proposals of marriage, although none of them promises that elusive extra – love.
Matthew Britten-Jones is a man of charm and strong social standing. He impresses Alex and her parents with his wit and intelligence, but would an amicable union be enough for a fulfilling life together?
At the end of the war, Captain Harry Blakeney discovers a dead soldier in a trench in France. In the man's possession is a secret love note, tucked inside a tin of chocolate that had been sent to the soldiers as a gift from the people back home.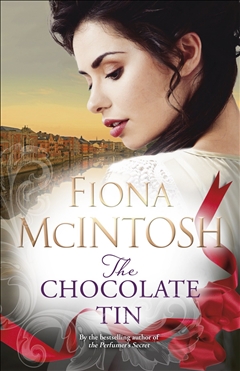 In pursuit of the author of this mysterious message, Harry travels to Rowntree's chocolate factory in England's north, where his life becomes inextricably bound with Alexandra and Matthew's. Only together will they be able to unlock secrets of the past and offer each other the greatest gift for the future.
From the battlefields of northern France to the medieval city of York, The Chocolate Tin is a heartbreaking tale about a triangle of love in all its forms and a story about the bittersweet taste of life . . . and of chocolate.
Early in December, Starts at 60 hosted Fiona McIntosh in our offices and our resident bookworm Karen had the great pleasure of speaking with her – watch the full video here. Karen says:
"I really admire the way Fiona entwines history and fiction to produce awesome women ahead of their times. Her research is all encompassing. As you will hear in our conversation, she goes to great lengths to make her books authentic, such as learning to make perfume and chocolate. It's a tough life, but someone has to do it.
"I had read Pacchendaele by Paul Ham not long before reading The Chocolate Tin and although they are very different books, having the knowledge of the one, made some parts of Fiona's book so much more poignant to read, I seriously needed tissues at hand."
The Chocolate Tin by Fiona McIntosh is available now from Dymocks. Click here to learn more.