Toiletries every traveller needs to have in their bag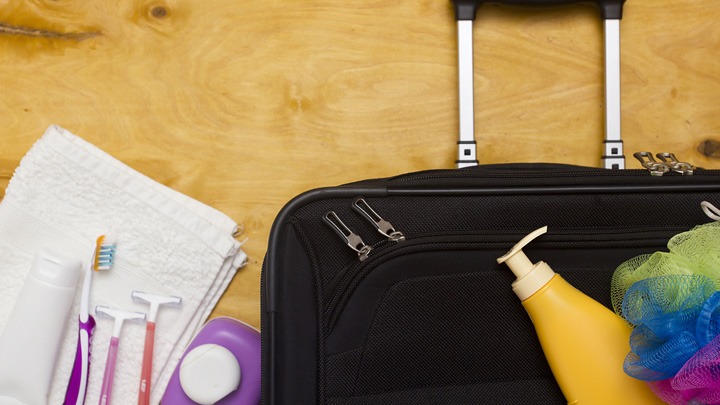 It might sound simple to figure out what to bring in your holiday toiletry bag but chances are, you have been overpacking. We're all guilty of putting in full bottles of things, or bringing along something we could buy in our destination country. So how can you reduce your toiletry bag but have everything you need?
Well, first of all, you need to plan your toiletries packing according to your packing goals: do you want to check them in or carry-on? If you're going carry-on only, your liquid toiletries will need to be located in a separate bag that can be scanned at customs. This means having extra space for anything that might need to go in your medical kit like creams. If this is this case, remove non-liquids, such as your razor, floss, toothbrush and put those in a separate bag.
And if you don't need many liquids or gels on your flight, then put them in checked baggage. If you have products over 100mL, you'll need to put them in here.
Here are some other items you should consider in your toiletry bag packing!
1. First aid kit
Ad. Article continues below.
A small first aid kit always comes in handy on a trip, even if it's just to use bandaids. Make sure yours has everything you need in case of bleeding, insect bite or burn.
2. Cosmetics
Unless you plan on travelling to a very remote location, it's likely that you'll be able to find makeup and other cosmetics in your destination! It may even be cheaper there, and it'll save you an unfortunate breakage or spill in your luggage.
3. Manicure items, but check-in only
If you're thinking about carrying a nail file, scissors, or any other sharp tool in your carry-on – don't! They are prohibited and you will need to hand them over. If you must bring a manicure kit, check it in your bag.
Ad. Article continues below.
4. A small towel
It can be tempting to want to bring along a big towel but the fact of the matter is hotels have towels so it is just adding extra weight! Instead, bring a small, quick drying towel that can be compactly stored in your luggage. This will save space and time.
5. Coconut oil
Coconut oil is a great multi-use product – it makes an excellent moisturiser, hand cream, body lotion, hair conditioner, shave cream and make-up remover. It's inexpensive and it smells great. Plus it's good for you and your skin!
6. Oral hygiene products
Ad. Article continues below.
Be sure to pack your toothbrush (with cap), floss and denture tablets if needed.
A cap for your toothbrush will not only keep it clean, it will make it more packable and allow it to dry easily. Some airlines gives you a package with a toothbrush or toothpaste but it is a better bet to bring your own.
7. Shampoo and conditioner
If you have a favourite shampoo and conditioner, you can pack the big bottles in your checked luggage, however you run the risk of having a spill. You have two alternative options: buy shampoo and conditioner on arrival, or buy solid shampoo and conditioner. It lathers up well and it is much easier to transport.
8. Exfoliating gloves
Ad. Article continues below.
These are a must-have in any toiletry bag! They are slim and are much better than carrying a wet loofah around.
9. Body wash
Some may opt for bar soap, but if you don't like that, you can buy a 3-in-1 body wash, shampoo and laundry detergent so you can use it for multiple things!
Tell us, when will you be travelling next? What will you be taking with you?