The pros and cons of a guided tour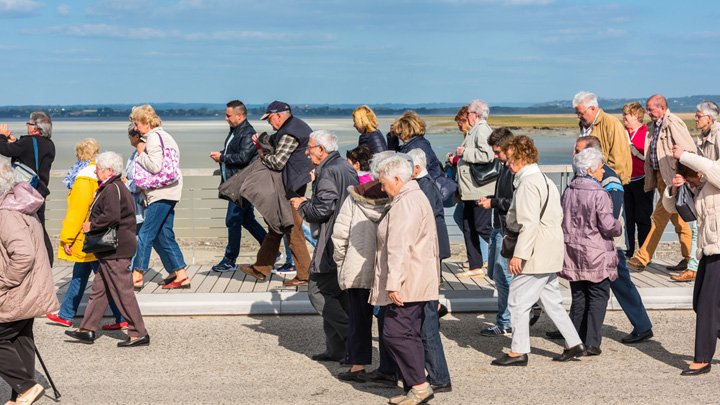 Going on a guided tour is something that many travellers experience are they holiday around the world. But not everyone loves a guided tour, and not everyone loves doing it on their own. Why is that? Well, there are pros and cons to weigh up. While travellers who like to plan might prefer to spend more time in a certain place, they may like the idea of everything being organised. Whereas someone who might like being in a group of people doesn't like to dawdle. It's all about compromise!
So we've got a list of 7 pros and 7 cons of a guided tour to help you make a decision next time you travel.
Pros of a guided tour
1. You will see the best parts of multiple cities
A lot of people choose a guided tour because they might only have a small amount of time to pack a lot in, and want to do it cost-effectively. The trade-off is that you mightn't get to spend as much time in a place, though if you prefer to just tick off the main sights, this is a real perk.
Ad. Article continues below.
2. Tour groups often skip lines at tourist attractions
On a guided tour, your Tour Director and tour company will likely have already purchased tickets to tourist attractions, thus allowing you to bypass the lines and enter through an entrance specifically for groups. One SAS reader told us about her visit to the Guinness Storehouse in Dublin. She was pleasantly surprised that her group skipped the huge lines and had their own private tour as well as tasting and pouring. It was that little touch that made her want to do a tour again.
3. Some or all meals may be included
Included meals relieve some of the stress about finding food in a foreign place. Most of the time breakfast is included and your Tour Director will arrange for it to be available in the hotels early enough to have it before you set off for the day.
4. You can see places that you mightn't have known about
Ad. Article continues below.
One of the best parts of a guided tour is you're never on your own and you're surrounded by people and experts who can answer your questions and cater to your needs. This means you might take a detour or may see a little area that wasn't on your original itinerary.
5. You hear about the sights from locals
It's one thing to read a guidebook about a place, but hearing about it from a local is a great experience. They will tell you where the best food is, where to go and how to do it!
6. It saves you the hassle of planning 
With an organised tour you don't have to worry about anything except a few excursions and free days. You don't need to book hotels, transport, translators, tours – it's all included in the premium price.
Ad. Article continues below.
7. You can meet other interesting people
when you travel alone or as a couple, it can be difficult to meet new people unless you're very outgoing and approachable. In a tour group, there's a more natural get-to-know-you situation and you're almost bound to talk to every person.
Cons of a guided tour
1. Early starts
Ad. Article continues below.
Guided tours do not allow for a lot of sleeping in, so prepare to be whisked into breakfast and onto the bus by 7 or 8am. Depending on how many optional excursions you choose you can easily be out and on the tour for 12 plus hours every day.
2. Optional extras cost a lot
A lot of things are included in even a basis tour but the options offered ended up becoming an additional expense some people don't anticipate. Be sure to look into any costs and budget for them before you go.
3. Travel time on buses and coaches
As much as travelling by bus or coach can be a nice way to see scenery and take a well-needed nap, they can be crowded, noisy and take a really long time. Claustrophobics mightn't enjoy this part.
Ad. Article continues below.
4. There is a pre-set itinerary 
Most organised tours start early in order to ensure that everybody has enough time to have a breakfast but sometimes you have to wait for others, which can seriously screw up a tight schedule. You will be then limited in how much time you can spend in a place, whereas if you were on your own, you could take it easy.
5. You will be stuck with the same group of people, who you mightn't get along with
Tour groups are often a mix of young and old, and a great way to make new friends and travel companions. But it can be tiresome to have the same conversation, and there's often one person who stuffs it up for others by being the loud, bossy or inquisitive one.
6. You might miss out on seeing some less tourist-y places
Ad. Article continues below.
Tours will stick to a general program of the most popular places, so you will not have a chance to truly explore or be able to go at your own pace.
7. They don't always cater to singles
Tours are often twin share and if you're on your own, you might have to pay a single supplement, which could make the price soar.
Tell us, have you been on a guided tour? What did you love about it? What did you dislike about it?