Prince Harry and Michelle Obama new best friends, but Granny's still his boss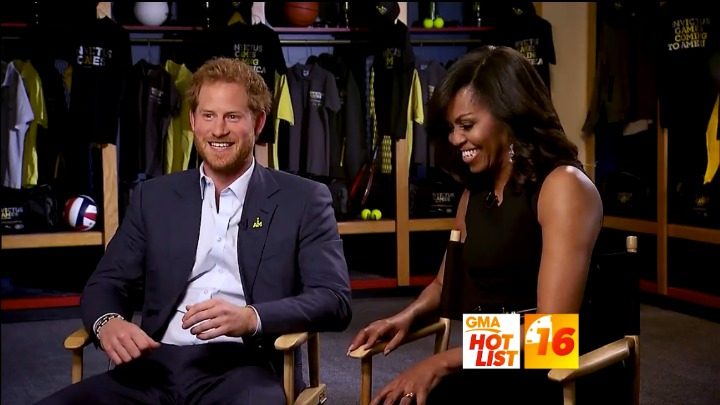 Prince Harry is setting hearts and the US media alight as he does the rounds to speak about the Invictus Games.
The Daily Mail reports that his co-star on Good Morning America was the First Lady, Michelle Obama, and they laughed together about the promotional video starring Prince Harry, the Obamas and the Queen.
'Mrs Obama came to us with the challenge and I genuinely did not know what to do. She dragged her husband into it, who happened to be the President. Slightly awkward,' said Prince Harry of the video.
The First Lady then said that it was her husband who convinced Prince Harry to ask Queen Elizabeth to star in their response video.
'He said, "Well, if you can get your grandmother to do this, you can drop the mic,"' explained the First Lady.
Ad. Article continues below.
'I didn't want to have to ask the Queen, because I didn't want to have to back her into a corner, but when I showed her the video she said,"Right, what do we have to do. Let's do this,"' said Prince Harry.

The First Lady also revealed that while she was in the UK she noticed how much Prince George obviously adores his uncle.
She said during their visit to Kensington Palace Prince George kept asking,"Uncle Harry, why you so quiet?"
Prince Harry laughed, explaining; 'I was on my best behaviour.'
The First Lady replied; 'You were, and he didn't understand what was wrong with you.'
Prince Harry again laughed as he explained; 'Normally I'm throwing him around the room and stuff.'
Ad. Article continues below.
While speaking on the Today show he spoke about his relationship with the Queen.
'One hundred percent, she's definitely my boss,' he said of Queen Elizabeth.
'My grandmom's always been the boss, but my God, she gives amazing advice, and she lets us cruise around sort of doing what we think is right.'
The serious side of the media rounds is to bring attention to The Invictus Games, and the health and welfare of Veterans.
'For me, as long as the venues are full, as long as these guys are enjoying themselves and lives are being changed right in front of you, we can't possibly wish for more,' said Prince Harry.
Do you enjoy seeing the lighter side of Prince Harry and Michelle Obama?