Love camping? There are 11 places you need to go this winter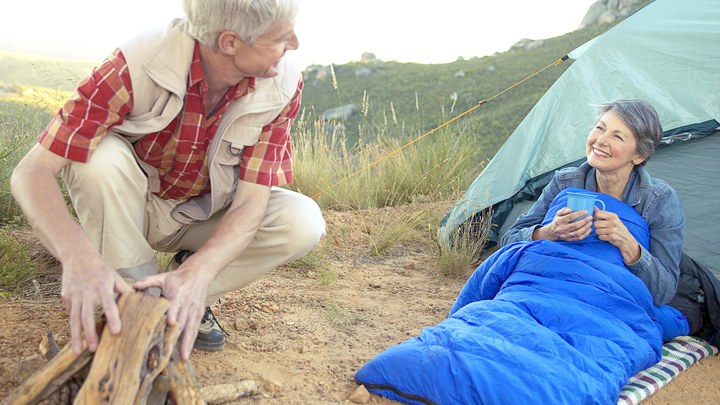 You might be thinking "Camping?!" but stick with us here: camping in winter can actually be one of the most fun experiences. The best part about camping in Australia is that the temperature varies everywhere you go and while it may be freezing down south, up north it is as warm as ever and the perfect time to be out in nature.
So whatever you're looking for – a beach campsite in a scorching hot winter, or a cool spot where you can sit by the fire – we have got it.
1. Bamurru Plains, NT
Ad. Article continues below.
Connect with nature at this incredible campground on the Mary River floodplains, just a short drive from the edge of Kakadu National Park. If you're more into glamping, this is the place for you. There's no need to BYO tent, as there are nine safari suites to choose from.
2. Booderee National Park, Jervis Bay, NSW
Camping at Booderee National Park in Jervis Bay, is home to the whitest sand beaches in the world! There are three un-powered camping areas in the park and if you're camping in June or July, you can see humpback and southern right whales migrating to Queensland.
Ad. Article continues below.
3. Lucky Bay, Cape Le Grand National Park, WA
It's barely ever winter in the west so why not take advantage of it? Head over to Lucky Bay in Cape Le Grand National Bay, a 40 minute drive from Esperance, where you can camp in the sun and go to the beach, as well as take in the sights of the nearby bushwalks and lookouts.
4. Ormiston Gorge, West MacDonnell National Park, NT
Ad. Article continues below.
Fancy a night under the stars? Ormiston Gorge is home to some of the clearest night skies in the country – which makes camping there a magical experience. Ormiston Gorge is a popular spot for hikers on the Larapinta Trail who come to have a swim in the water hole.
5. Poeppel Corner, Simpson Desert National Park, QLD
Ad. Article continues below.
If you're really wanting something different, the enormous Simpson Desert is your best bet. This arid area spanning 17 million hectares is the perfect getaway in the winter months. There are no designated campgrounds or facilities and only experienced, self-sufficient travellers should explore the desert.
6. The Whitsundays, QLD
Ad. Article continues below.
The best camping in Australia can be found in the Whitsundays. How can you go past white-sand beaches, warm crystal clear water, snorkelling and small campgrounds for just a handful of campers at a time? There are sites at Whitehaven Beach, Crayfish Beach, Maureens Cove, Planton Island, Denman Island, Sawmill Beach and Paddle Bay – it'll be an experience you'll never forget.
7. Tulki Beach camping area, Cape Range National Park, WA
Most beach camping but with a difference. This area is quite rugged, but worth it for the view. There's a close community of campers who swap stories with around the campfiremaking it an unmissable experience.
Ad. Article continues below.
8. Lawn Hill Gorge camping area, Boodjamulla (Lawn Hill) National Park, QLD
It's hot and dusty but a real little an oasis in the outback, with a palm-fringed river hiding in a gorge. Lawn Hill Gorge camping area is the best camping area in the national park and has 20 sites ranged next to the creek.
9. Babinda Creek camping area, Babinda, QLD
Ad. Article continues below.
Babinda Creek camping area south of Cairns has a family-friendly camping area with good facilities next to a stunning rock creek that you can take a dip in. There's also a small nearby town and Mount Bartle Frere (QLD's tallest mountain) just around the corner.
10. Tidal River camping area, Wilsons Promontory National Park, VIC
Ad. Article continues below.
Tidal River is the biggest and the best national park campground in Victoria, with walking tracks and activities galore. With its hot showers, supermarket and coffee, Tidal River is closer to a camping town than a regular campsite.
11. Rocky River camping area, Flinders Chase National Park, Kangaroo Island, SA
Ad. Article continues below.
These gorgeous bushy campsites give you unrivalled access to native wildlife, with wallabies at the campground and seals and sea lions not far away. And there's no excuse not to go to Kangaroo Island!
Where do you love to go camping?