Jamie Oliver says "Pull your finger out, Australia" after UK soft drink tax approved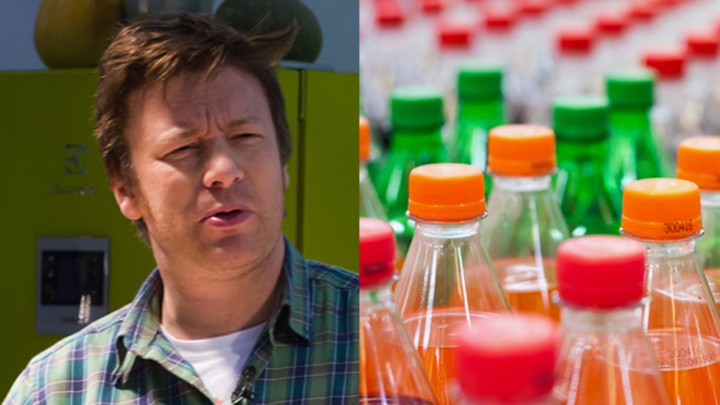 It's been a long few years for celebrity chef and healthy eating campaigner Jamie Oliver but finally, the UK government will introduce a tax on soft drinks.
Oliver took to social media to tell his fans after the decision.
"Pull your finger out Australia," Oliver urged in a video.
"Surprisingly and fascinatingly we've seen [UK Chancellor of the Exchequer George] Osborne come out with a bold, brave tax… I'm shocked but in all the right ways, I'm humbled actually," he said.
"This will travel right around the world, to Canada, to Australia," he predicted.
Ad. Article continues below.
Mr Osborne made the announcement in Wednesday's budget and said it was being introduced to improve children's health.
"I am not prepared to look back at my time here in this Parliament, doing this job and say to my children's generation… I'm sorry. We knew there was a problem with sugary drinks. We knew it caused disease. But we ducked the difficult decisions and we did nothing," he told the House of Commons.
Britain's tax on sugary drinks will begin in 2018 which the government hopes will give manufacturers time to reduce the amount of sugar in their drinks.
Under the laws, drinks with more than 8 grams of sugar per 100 millilitres will be taxed at a higher rate however pure fruit juices and milkshakes will not be subject to the levy.
It will generate more than $1 billion for their economy, however over here in Australia, Prime Minister Malcolm Turnbull has kept mum on whether it is on his Budget agenda this year.
Ad. Article continues below.
Jamie Oliver is hoping so: he told us to pull our fingers out!
On the Live Facebook streaming, the chef prefaced his comments with this caption:
"The food revolution is underway. This feels like a victory for Britain's children and for everyone who has campaigned so hard for a tax on sugary sweetened drinks. I would love the money to go to food education as well as sport but I think we have to applaud the Chancellor for taking this extremely important, bold step. I hope that this bravery will continue to form a part of this Government's attitude to dealing with obesity and will influence the Prime Minister's Childhood Obesity strategy later in the year".
In the video, streamed live to his 5 million fans, Oliver said "I didn't actually know we would get it" despite scientific evidence.
The celebrity chef had some strong words for our Government after he successfully campaigned for a soft drink tax in the UK.
Do you agree with Jamie? Should there be a soft drink tax in Australia?