Clever tips to help you pack lighter and smarter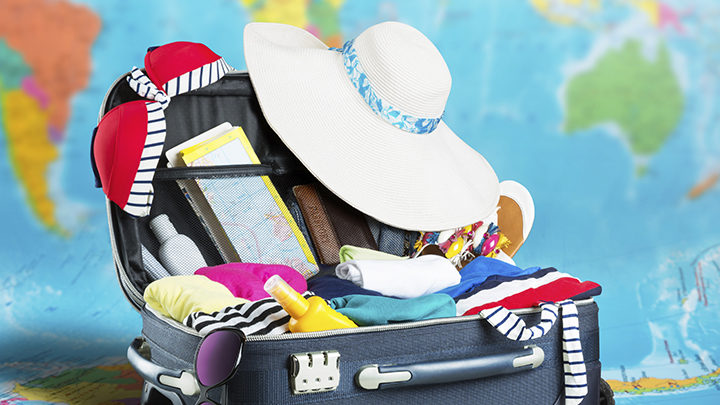 When you travel it's easy to want to pack everything including the kitchen sink.
But then comes the pain of shoving everything in, lugging a heavy suitcase behind you and those dreaded excess baggage fees.
What if you didn't actually need to pack half the stuff you do?
Or if you did, what if you could pack smarter to make everything fit?
Here are 12 clever tips to help you pack lighter and smarter on your next holiday.
Ad. Article continues below.
Clothes
Pack no more than seven days of clothes. It's hard to resist the temptation to pack half your wardrobe, but if you find yourself asking –  will I even wear this? – then chances are you won't. Try packing the basics one pair of jeans, two pairs of shoes an
2. Stick to one colour palette. Mixing and matching too many different colours will lead you to take more clothes than you need. Pick one colour palette and match your clothes to that. A good pair of jeans or pants can easily be matched. Avoid too many clashing bright colours or patterns.
3. Don't roll your clothes.  Rolling your clothes will take up more space and make your luggage feel bulkier. Fold them as small and neat as possible. Remember, that's not an excuse to pack more than you need.
4. Think light fabrics. When travelling in cold weather, most people see it as a reason to pack the heaviest, thickest jumpers and jackets they can. But travelling to a cold climate doesn't need to be that way. Try packing lightweight thermal gear you can wear under your clothes, and if you need something warm, merino wool is one of the lightest you can buy. If you're heading to a warmer destination, think light and airy. Light swimsuits, swimming shorts, bikinis, sarongs and singlets are all lightweight and suited for a day by the beach or the pool.
Ad. Article continues below.
Packing
5. Give yourself time to pack. If you're packing at the last minute chances are you'll be more inclined to just throw everything messily in your bag or suitcase. This can lead to packing things you don't need or missing the important travel must-haves. Packing bit-by-bit well in advance will give you time to access what you're packing and make smarter choices as you go.
6. Be tech savvy – leave the maps and heavy books at home. Everybody wants to find their way around their destination, and most pack the maps and travel guides. But in this day of modern technology and WI-FI, there's no reason to weigh down your baggage with books. There are a range of apps available to download on your smartphone, iPad or tablet that have maps and guidebooks. The Internet is a gem when travelling. If you're not comfortable relying too much on technology, pack a simple pocket size guidebook.
7. Don't take toiletries with you. Unless it's medical, you should ditch avoid packing toiletries. Shampoo, conditioner, sunscreen, bug spray, hair spray, most make-ups and body sprays can all be bought when you arrive at your destination. If you have an absolute favourite perfume or cologne or make-up that you must take with you, pack it in the smallest possible size.
8.  Store your socks and underwear in your shoes. Try rolling your socks and underwear and keeping them in your two pairs of shoes. That way they'll take up less room and you'll be less likely to pack more than you need.
Ad. Article continues below.
Luggage
9. Buy a smaller, lighter bag or suitcase. When travelling it's very easy to go out and buy the biggest piece of luggage you can find. By buying a smaller piece of luggage, you're less likely to
10. If you can carry your bag, don't buy anything with wheels.  Suitcases can become heavy and hard to lug around. If you're travelling to a destination with cobbled streets or lots of stairs, chances are a suitcase will make things hard for you. By choosing a bag you need to carry, you'll be able to feel how much weight you're carrying and be more inclined to pack lighter.
Coming home
11. Watch your shopping. If you're buying gifts for family and friends, think about what you're buying. Set yourself a list to avoid buying excess. Try buying smaller, lighter objects. Anything heavy such as statues, ceramics or glass can really weigh down your baggage, and you don't want to be stung on your return home with excess baggage fees.
Ad. Article continues below.
12. Don't bring it all back with you. If you bought your toiletries or anything you needed to use just at your destination, chances are you're probably not going to need it when you get home. When packing to come home think hard about whether what you're taking is needed. Shampoo, conditioner, body sprays and most toiletries you'll already have at home, therefore, you don't need to bring it back.
Remember no matter where you travel, 99% of the time you can buy anything you want as you need it.
How do you pack when you're going on holiday? What tips you would suggest to pack light?