What your house colour says about you, and your state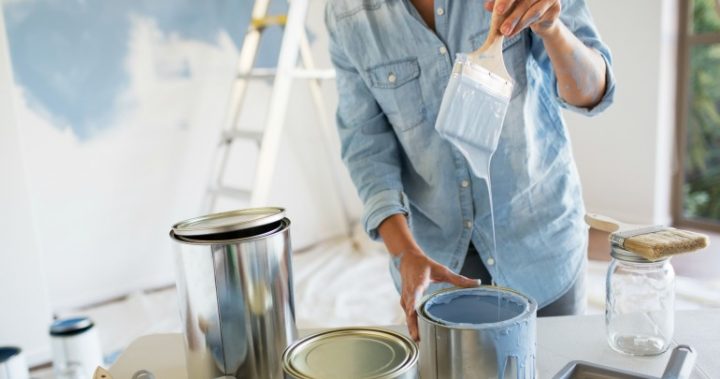 There are so many colour options available at paint retailers and hardware stores – standing there looking at colour swatches and trying to choose a colour for your house can be mind-boggling.
It's probably no surprise, then, that most of us stick with what we know, and what everyone else has.
Across Australia, there are a few standout colours that everyone loves, according to Taubmans, the paint company that's compiled a breakdown of the most popular paint tints in New South Wales, Victoria, and Queensland.
Some of the variations in state favourites, though, might come as a surprise. 
New South Wales
Ad. Article continues below.
The most popular paint tints in NSW include Crisp White, Windy Beach, and Mission Brown.
Judging from these colours the people of NSW prefer a look that is natural and light.
According to Shaynna Blaze, the TV interior designer and spokeswoman for Taubmans, the contrast between the colours "is very subtle [and] gives a simple, textural feel to [an] exterior that focuses on the setting rather than the architectural features".
The colours can also be used in interior decorating to create "modern classic look with soft timber and natural accents," she says, recommending that for exterior decorating, homeowners are best of making use of surrounding foliage, potted plants, and natural timbers to go with these colours.
Ad. Article continues below.
Queensland
The most popular paint tints in Queensland include Crisp White, Whisper White, and All Black. Hues of grey are also a popular choice Australia-wide.
With a love of white paint, the sunshine state prefers a fresh and bright look for interiors and exteriors. The state's choice of black in the top three also shows a love for classic, contrasting looks.
Blaze reckons white is great for showcasing "doors and [balconies] with almost a traditional touch" and notes that using soft greys is a great way to tone down the intensity of certain features against a pure white background.
Ad. Article continues below.
She says this colour combination is a great way to create a 'Hamptons' look. All these colour combinations can be used on interiors and exteriors.
Victoria
The most popular paint tints in Victoria include Crisp White, All Black and Cotton Sheets.
Ad. Article continues below.
Like Queensland, Victoria favours a combination of black and white to create a classic look with a modern edge. According to Blaze, using a combination of black and white can "[create] a dramatic, inviting space that you want to explore."
She notes that using this colour combo on an exterior is great for highlighting the windows and doors.
She does say, however, that it can be a hard look to pull off, so advises choosing one 'hero' feature and sticking with it than overdoing it.
Ad. Article continues below.
It is obvious that as Australians we all love painting our houses white, but if you are wishing to add a bit of colour to your place interior designer Shaynna Blaze gives some insight into the current interior and exterior paint trends.
Blaze believes the focus of this season will be "paring back to minimal statements rather than [being] over fussy, with an influence of the '80s and '90s, with black giving strength to a very soft palette." she said. "Blush and pink were very strong in 2017 and will still be around, but their mix with green will give a different look, and brass as a metallic accent is certainly not going anywhere."
Blaze thinks our love affair with dusty pink will continue and sage greens and mustard yellows will break into the world of interior and exterior painting.
"Pink will still be here, but taking a softer side, getting warmer and subtler, from blush to taking on pinky-flesh tones, while green is taking us back to nature and camouflage with olive and sage greens," she says. "Yellow in mustard tones combines well as an accent and taking on watercolour tones as well. Blue is never out of the equation, but with muted tones to work with the new palettes of the season." she said.
Ad. Article continues below.
Blaze notes that muted hues of colour are set to stay rather than bright pops of colour. She also notes black is a very attractive option for cerating a classy look.
"Black is strong, works with the minimal look of 2018 and combines with brass, white, flesh colours and greens, so we have a very 'block' coloured look on our way."
What are your favourite house colours? Do you like traditional heritage style house or modern properties with pops of bright colour?