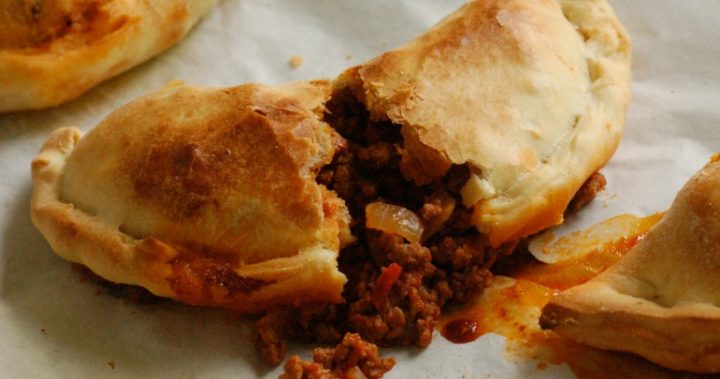 If you're looking for a new spin on the classic beef pasties, these Spanish-inspired empanadas are sure to tickle your fancy.
The secret to these empanadas is a juicy meat filling and this version, with mined beef, onion, garlic, cumin, oregano, tomato paste and Sicilian olives, works a treat. While they look similar to a traditional English pasty, empanadas use shortcrust pasty for a dense, buttery crust and plenty of Spanish-inspired spices and flavours to create one seriously delicious filling.
These tasty empanadas are perfect for picnics and entertaining, and also make a great mid-week meal. Great served hot or cold with a side of tomato relish and a garden salad.
Ingredients
1 tbsp extra virgin olive oil
1 brown onion, finely chopped
3 cloves garlic, crushed
1 tsp ground cumin
1/4 cup fresh oregano leaves, chopped
400g beef mince
1/4 cup tomato paste
1/4 cup water
3/4 cup green pitted Sicilian olives, chopped
1 cup flat-leaf parsley leaves, chopped
Sea salt and cracked black pepper
4 sheets shortcrust pastry
1 egg, lightly beaten
Method
Heat oil in large frying pan over high heat.
Add onion, garlic, cumin and oregano and cook, stirring, for two to three minutes or until golden.
Add mince and cook, breaking any lumps with wooden spoon, for five minutes.
Add tomato paste and water and cook for two minutes.
Add olives, parsley, salt and pepper and set aside to cool completely.
Preheat oven to 200°C. Using an 11cm-round cookie cutter, cut four rounds from each shortcrust pastry sheet.
Place 1 1/2 tablespoons of beef mixture in centre of each round and brush edges with egg.
Fold to enclose and press with fork to seal.
Place on two oven trays lined with non-stick baking paper and brush with egg.
Bake for 15 to 20 minutes.