Here's your chance to fly to Tasmania for free!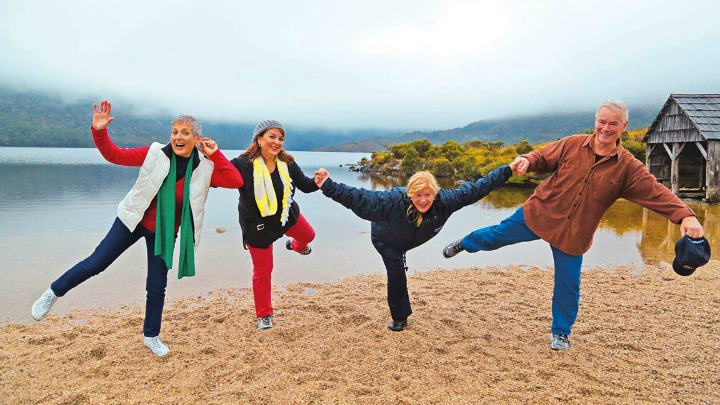 Far from the mainland and isolated from the rest of the country, it's no wonder Tasmania is unlike any other state in the country.
And while the mainland in-joke might be about Tasmania lagging behind, their natural reserves, wildlife, history and culinary culture has it making leaps ahead as a holiday hotspot. AAT Kings have a 12-day Perfect Tasmania Guided Holiday on offer, where you could save by flying for free from Sydney, Melbourne, Brisbane or Adelaide.
Here are just some of the things you're likely to come across during your getaway to Tasmania.
1. The Salamanca Markets
Leave room in your suitcase for the return flight and wear your stretchy pants, because Salamanca Markets are waiting for you in Hobart.
Ad. Article continues below.
2. Russell Falls
Spend the morning trekking through Tasmania's oldest national park, Mt. Field, and don't forget your camera because you'll want to take as many photos of the three-tiered waterfall, Russell Falls.
3. Spot a Tasmanian Devil
These guys might look cute and cuddly but they are wild animals and are known for being temperamental. Keep an eye out for them while you explore Cradle Mountain National Park, just be sure to keep your distance.
4. Memorial Trees
Ad. Article continues below.
The Legerwood Carved Memorial Trees were created in honour of fallen WWI soldiers. You'll taken in the history of this region, then visit the old mining town of Derby and drive through the myrtle rainforest at Weldborough Pass.
5. Ancient and modern history
Heading through Hobart to the village of Ross is a trip into the area's colonial past. Here there are 186 carvings of Celtic symbols as well as flora, fauna and popular people of the day.
Click here to learn more about this incredible deal!
*Conditions apply. Please visit the AAT Kings website for more information.