Being chased by security was a big part of growing up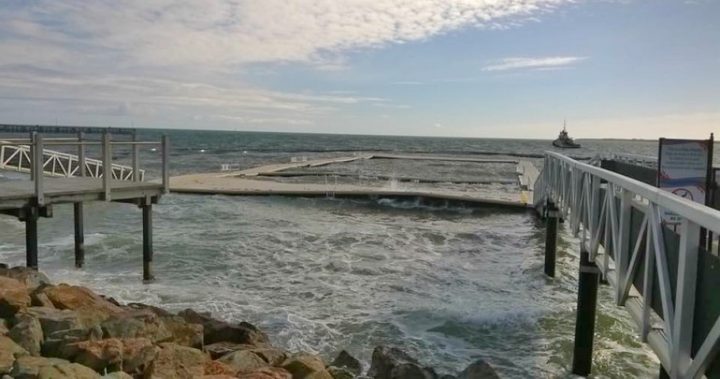 In a town near us the swimming facility has been problematic and has fallen to pieces, been patched up, fallen to pieces… It no longer is the complete structure in the photo but just bits of pontoon anchored down. We sat at a cafe at lunch time overlooking the swimming enclosure, watching children going past the 'Closed for Repairs' signage and climb the locked gates to swim off the pontoons.
It made me realise being chased off by security guards was a major part of my childhood.
My grandparents lived at the edge of Adelaide at a place then called Springbank, but now the suburb of Panorama.
The hills rose beyond their home and we would explore the area regularly. The trouble was the area was owned by the railways. They had quarried for the stone for ballast on the railway line. Later they used the old quarries to dump old railway equipment and signs. My brother and cousin found some great little enamel signs from railway carriages — 'Don't waste the water' among them. The old stone crusher was one of the many things we explored.
With Grandpa, we would walk through the gullies and up the hill to the kiosk at Windy Point. We would all have a little Amscol ice cream in a tub eating it with the provided little wooden spoons. Ruffy, our terrier, just used her tongue but someone had to hold the carton still for her.
Ad. Article continues below.
On many of these excursions, however, we'd be sent on our way by an officious security guard. Rarely would we leave but just back track to use another route.
Come my teens a favourite swimming hole was the railway dam in the Belair National Park. Again, the security would come and point out the 'No Swimming' signs and yell at the horde of kids to get out. We'd all disappear for 10 minutes and then return to swim in the dam.
It seemed such a huge injustice to me that all the best places were out of bounds.
Do you agree with this author? Where did you play that was risky when you were growing up?
Keen to put pen to paper, or fingers to keyboard, to share your thoughts with other 60-pluses? You can sign up as a contributor and submit your stories to Starts at 60 here, and join the Starts at 60 Bloggers Club on Facebook here to talk to other writers in the Starts at 60 community and learn more about how to write for Starts at 60.