World's biggest cruise ship labelled a 'disaster'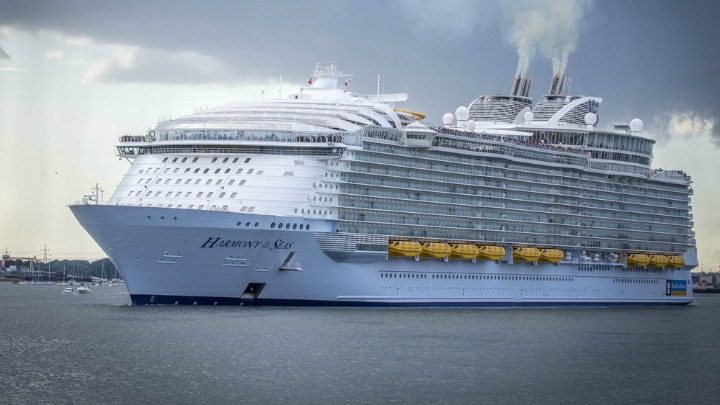 The Harmony of the Seas cruise ship is meant to be one of the world's most luxurious cruises, but angry passengers say it's more like a construction site than anything else.
The cruiser set off on its first voyage from Southampton to Rotterdam and a subsequent trip to Cherbourg with thousands of passengers on board, only to disappoint them with unfinished work and potentially dangerous hazards.
Passengers have shared photos showing workers finishing floor boards, decks covered in water, urinals overflowing and drain pipes exposed throughout the ship.
They have also said vast areas of the boat are closed off as they are not yet finished, meaning they are missing out on many of the facilities they paid good money for.
Ad. Article continues below.
There has been huge hype around the ship for months now, with owner Royal Caribbean creating lots of media buzz and excited travellers booking well in advance.
It is the largest cruise ship in the world, costing $800 million to build and weighing 227,000 tons.
None of that is enough to save it from what is being hailed as a disastrous maiden voyage.
Ad. Article continues below.
Passenger Georgina Davie, 40 – who dubbed the ship Disharmony of the Seas – told the Daily Mail: "The ship is a construction site and is unsafe and a serious risk to all passengers.
"I understand contractors sometimes don't deliver but Royal Caribbean should have taken responsibility for it and given people their money back or reduced it and told people before getting on board instead of leaving them stuck in the middle of the sea where they can't do anything about it."
Ad. Article continues below.
Another passenger, Hayley Lewis, fumed: "Sharp debris in kids' pools and shockingly safety glass missing in several places on top deck!"
Ad. Article continues below.
Ad. Article continues below.

Royal Caribbean has issued a statement saying the safety of its passengers is the highest priority as they carry out the finishing touches on the ship.
Would you put up with this on a cruise? Have you ever been on a cruise holiday?