Take a walk on the world's most epic stairway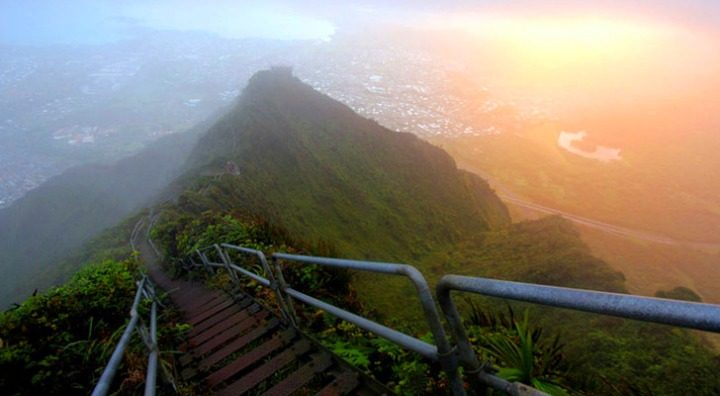 Hawaii is known for it's stunning beaches, laid back lifestyle and breathtaking scenery.
One of the best places to take in the view is from the spectacular Stairway to Heaven, a hiking trail that winds its way up to the summit of Puu Keahi a Kahoe on the state's main island of Oahu.
The trail is beloved by locals and tourists alike who regularly strap on their backpacks to climb the mammoth 4000 steps up the mountain.
However, the walking trail is not technically legal.
The stairway has been closed for over 30 years and is lined with guards and fences set to deter anyone trying to make their way to the top.
Ad. Article continues below.
This hasn't stopped people having a go though and thousands of pictures and videos have made their way onto the internet of happy climbers sneaking their way up the path.
The hike is certainly not for the faint of heart with distance, height and security measures in place to fend them off.
But since when has that ever stopped adventurous tourists?!
The government in Hawaii is currently in talks to tear the stairs down, but it is facing huge opposition from locals who have taken to fundraising to try to save it.
They are suggesting charging people a $10 or $20 fee to hike the trail, with proceeds going towards repairs and maintenance of the much loved stairway.
Ad. Article continues below.
A section of the trail was recently damaged in a landslide after a storm prompting officials to speed up their push for permanent closure.
While some say it is too dangerous to walk, others say people should be able to make that decision themselves and climb at their own risk.
Would you be game enough to walk the track?
Ad. Article continues below.
Ad. Article continues below.
Should this track remain open or close down for good? Would you climb it?