The world's tallest and scariest waterslide is calling your name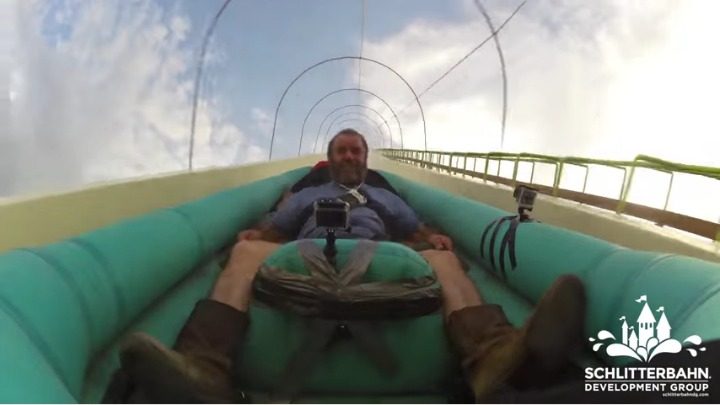 Waterslides sure have changed a lot in the past few years!
Gone are the days of a simple slip n' slide. Now, thrill seekers are lining up to launch themselves down an 18-story high waterslide in the United States.
The slide has a near vertical drop, which is enough to scare most people away from even considering the idea.
The slide, called Verruckt opened in 2010 in Kansas City.
Now, video footage of waterpark designer Jeff Henry and ride engineer John Schooley shooting down the slide has captivated people around the world as they get a front seat view on what it's like to take the plunge.
Ad. Article continues below.
The men are seen strapped onto a floatation device before being pushed off the ledge and plummeting down the pipe.
The original video includes a lot of swearing (this version has been dubbed with music instead) as the men yell and shout all the way to the bottom.
Despite being in the business of rides and thrills, the two men are still scared silly by the whole experience.
Schlitterbahn water parks marketing director Layne Pitcher said: "They start off with sheer terror as they are coming down that first drop, as they come down that second drop there is one last yell, and then there's the celebration that they made it."
And talking of how the designers came up with the idea, Layne explained: "We were sitting around and Jeff said: 'I want to build the tallest, baddest waterslide ever."
Ad. Article continues below.
Schlitterbahn worker Lyndsey Sprouce, 22, who is a regular rider of the slide, said: "I can't stop riding it. It's the scariest ride I have ever been on — if not the scariest thing I have ever done."
The ride is open to the public and anyone brave enough to climb on board.
Would you have a go on this slide?
Do you consider yourself a daredevil? What's the craziest ride you've ever been on?