The best ever loaded potato salad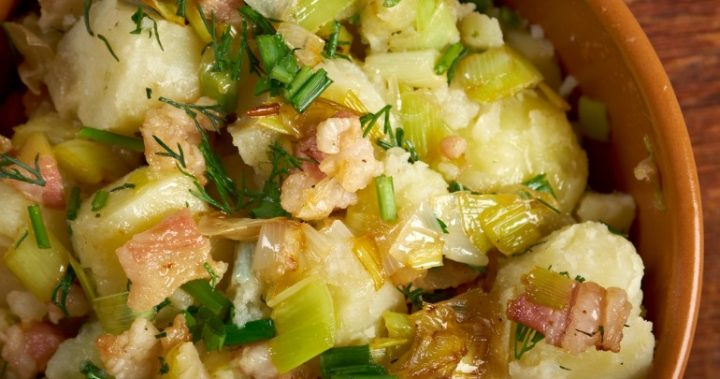 Potato salad is a classic summer dish to serve up over the Christmas period, but this version is really taking things to the next level. This recipe is similar to the German version – and if there's one thing the German's know it's potato salad! Filled with light, fluffy potatoes, and perfectly crispy bacon it's jam-packed with flavour and is sure to go down a treat. The vinegar dressing is cooked through the bacon and leek mix to create that amazing traditional flavour you won't be able to get enough of. Keep any leftovers stored in an air-tight container in the fridge – not that it's likely there will be leftovers, it's that good!
Ingredients
3 cups diced and peeled potatoes
4 slices bacon
1 small onion, diced
5 cm cut of leek, finely sliced
1/4 cup white vinegar
2 tablespoons water
3 tablespoons white sugar
1 teaspoon salt
1/8 teaspoon ground black pepper
1 tablespoon chopped fresh parsley
Method
1. Place the potatoes into a pot, and fill with enough water to cover. Bring to a boil, and cook for about 10 minutes, or until easily pierced with a fork. Drain, and set aside to cool.
2. Place bacon in a large deep frying pan over medium-high heat. Fry until browned and crisp, turning as needed. Remove from the pan and set aside.
3. Add onion and leeks to the same pan (leave bacon grease in pan), and cook over medium heat until browned. Add the vinegar, water, sugar, salt, and pepper to the pan. Bring to a boil, then add the potatoes and parsley. Crumble in half of the bacon. Heat through, then transfer to a serving dish. Crumble the remaining bacon over the top, and serve warm topped with parsley.