The absolute best packing tips for an organised holiday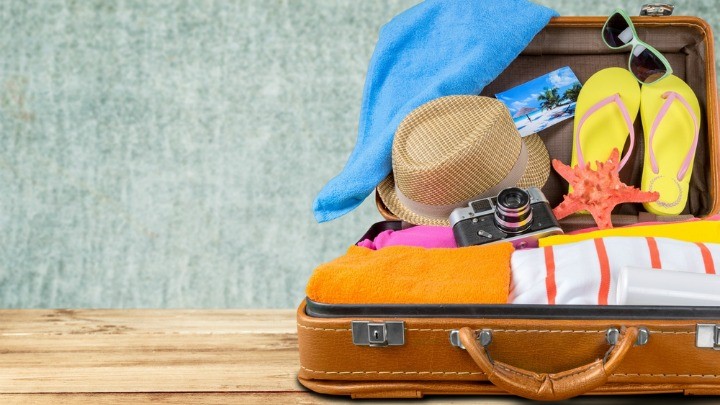 Keeping your bag neat and tidy while on holiday can be a struggle for most of us. There are a few handy tips though to keep you organised and save you time digging through your bag searching for things. Here, Fiona from the blog TIFFIN share her top packing tips to help you stay on top things while you're travelling.
1. Packing Cells
My number one must have. They help to create a 'system', which is the key to being able to lay your hand on anything at a moment's notice. They keep your luggage neat so you're not wasting your holiday packing and re-packing and help to make sure you don't leave anything behind. Assign a cell to a particular item eg: 1 x mid cell for t-shirts, 1 x large cell for shorts/pants, 1 x small cell for underwear etc. They come in a range of shapes and sizes and a readily available in any luggage and outdoors shops.
Open suitcase with packing cells and a drawstring bag inside
2. Drawstring Bags
Ad. Article continues below.
Use these for items such as socks, tights, scarves and electrical cords and chargers. These can also double as bags to put dirty clothes in so they're not roaming all over your bag, getting mixed in with clean. If you can't lay your hands on a drawstring bag, lingerie bags that you use in the washing machine are a good substitute.
3. Cardboard Packing Tubes
Sounds like a silly item to pack but I can't tell you how many times this has come in handy. Fill it as you would a drawstring bag but use it whilst your travelling as a place to store posters or paper souvenirs you collect along the way. Also good for delicate items such as carvings and small ceramics – simply wrap in clothes for padding and replace back into the tube for sturdy protection.
4. Zip Lock Bags
How did we ever exist without these? Put liquids such as shampoos into a bag before you put them into your toiletries bag. Zip locks stop jewellery and other small items going astray and can also be used to store souvenirs (use clothing or paper serviettes to wrap for extra protection). During your travels, zip locks are handy for carrying snacks for day trips. Put all of your loose coins in one and drop it off at the airport or on the plane to contribute to a 'Change for Charity' program.
Ad. Article continues below.
5. Discard As You Go
There comes a time when my clothes are a bit too tired to be presentable for the office. I set these aside and then pack them for travelling. As they are almost at the end of their useful life to me, I'm happy to discard them after a couple of wears or as space in my luggage becomes precious. The same goes for sandals, ballet flats and sandshoes at the end of their life. There are some distinct advantages to this approach. 1. You won't be wearing the same outfit in every holiday snap or selfie. 2. Depending on the length of your trip and the number of changes of outfit you have, you may not need to do laundry 3. You may also be able to leave behind a pile of neat, serviceable clothes (clean them first!) for hotel staff or local community groups who can put them to good use. Leave a note saying you have left them behind deliberately so they don't race to return them when you are checking out (as has happened to me).
What are your top packing tips? Do you like to travel?