Tasty ricotta, parmesan and asparagus tart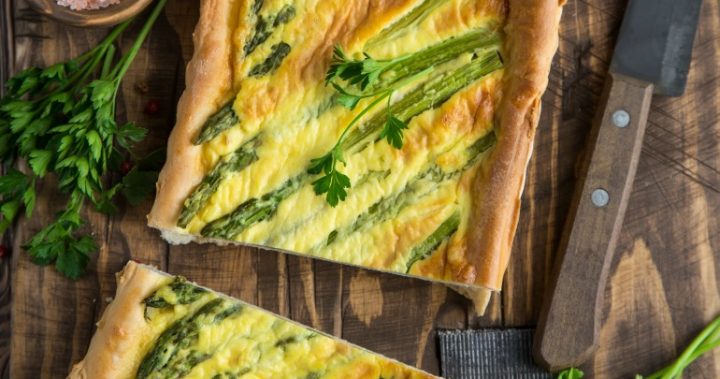 This classic ricotta and asparagus tart is perfect for a simple yet tasty dinner during summer. This delicious recipe includes flaky puff pastry, filled with ricotta, parmesan and asparagus, to create a mouth-watering flavour.
It's great on its own or paired with a fresh garden salad and simple olive oil dressing. The simplicity here is great, but you can add any other toppings you think would go well. Try sun-dried tomatoes or Kalamata olives for a Mediterranean twist.
Reheat any leftovers by putting the tart on a tray, covering with aluminium foil and heating in the oven at 160°C for about 15 minutes. It's so tasty, you'll be coming back for more!
Ingredients
16 sheets filo pastry
500g smooth ricotta
1/2 cup finely grated parmesan
2 garlic cloves, crushed
2 eggs
1 lemon, zested, juiced
3 bunched asparagus, ends trimmed
Extra virgin olive oil
Method
Preheat oven to 180°C. Line two baking trays with baking paper.
Place one filo sheet on clean work surface. Spray with olive oil.
Top with another filo sheet and spray with oil.
Continue layering six more sheets to create a stack.
Place on tray. Repeat with remaining filo to make another stack.
Meanwhile, combine ricotta, parmesan, garlic, eggs and lemon juice in bowl.
Season. Spread evenly over filo, leaving 3cm boarder.
Arrange asparagus over mixture. Fold filo edges over boarder.
Bake, swapping trays halfway through cooking for 20 minutes.
Sprinkle with lemon zest and drizzle with oil.