How to get a free upgrade on a cruise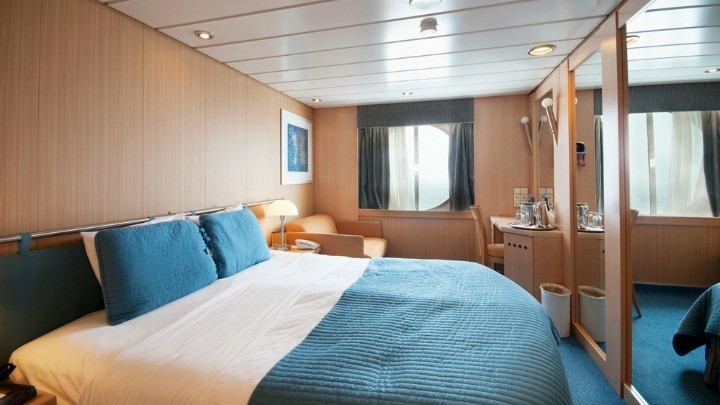 If you've ever been upgraded on a flight or cruise you'll know just how great of an experience it is and how much it can improve your holiday.
Being able to enjoy your break with an extra shot of luxury and comfort can make a huge difference and the extra level of service you receive just goes to make it even more enjoyable.
If you're looking for an upgrade though, you need to do more than just sit around hoping for it. Here are the best tips for getting an upgrade…
Book a guarantee cabin
A guarantee cabin means you're assured a cabin in the particular category you requested, but are not assigned a specific cabin until a few weeks before departure. Booking your cabin this way leaves more room for the cruise company to upgrade you in the weeks leading up to your trip. If the ship isn't full or there are better cabins available in your category, you are more likely to get bumped up for free as a curtesy from the company.
Ad. Article continues below.
Cruise the same line often
Cruise companies will reward long-term customers just like airlines do. The more frequently you travel with the cruise line, the more likely you are to get an upgrade. Most companies have customer loyalty programs so be sure to sign up with every cruise line you travel with. Being a member of the loyalty program also open you up to special last-minute offers where you can snag an upgrade for a fraction of the regular price.
Sail during low-demand seasons
A quick Google search will tell you when the peak and off seasons are for the area you're sailing in. The majority of ships tend to sail during peak seasons so searching for one that's heading off in the low season will save you money and increase your changes of that elusive upgrade. Cruises departing in the low season tend to have plenty of spare cabins available. To improve guests' experiences, and hopefully get them coming back again next time, staff will often give away free upgrades to passengers.
Look out for last-minute sales
Ad. Article continues below.
Even if you're already booked your cabin keep an eye on last-minute sales as you can use these as leverage to wrangle an upgrade. If cabins in the same category as yours go on sale in the weeks leading up to departure call your travel agent or the cruise company and ask about an upgrade to compensate you for the difference. Most people ask for part of their fare back to match the price reduction, however, asking for an upgrade is better for you and the cruise company. This way, they don't have to refund any money and you get the live it up in a bigger and better cabin.
Wait until after you've departed
Staff won't really know their capacity levels until after you set sail, so wait until you reach the first port or have been at sea for a day or two before you ask about an upgrade. If there are spare cabins available they're more likely to help you out and throw a generous upgrade your way after the initial dust has settled.
Have you ever been upgraded on a cruise or flight? Have you been on a cruise before?