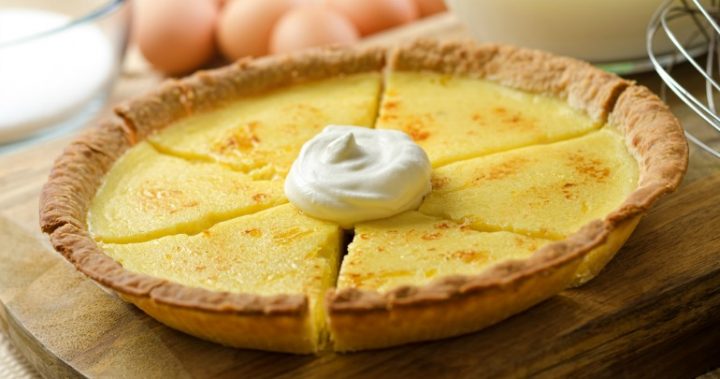 Custard tarts are a classic dessert that seem to have been around for ages, but this updated version is so damn delicious you have to give it a go! The custard filling is just as smooth and creamy as ever, but the taste has been taken to the next level thanks to the addition of a good dose of Baileys for that special 'adult' flavour. The crust in this version is store-bought shortcrust pastry, but you can make your own if you're feeling extra ambitious or have a pastry recipe you love using. Serve with the cream and Baileys mixture dolloped on top, dish up a nice big slice and try not to go back for seconds!
Ingredients
320g sweet shortcrust pastry sheet
Plain flour, for dusting
350ml double cream, plus 200ml for topping
1 vanilla pod, split lengthways
2 whole eggs, plus 4 egg yolks
125g caster sugar, plus 1 ½ tablespoons for topping
200ml Baileys, plus 1 tablespoon for topping
Method
1. Heat oven to 180C/160C fan/gas 4 and put a baking sheet on the middle shelf to heat up. Unroll the pastry, then use to line a 22cm fluted tart tin. Leave about 1cm of pastry overhanging and trim the rest. Line the case with baking paper (scrunch it up first to make it more pliable) and baking beans. Place on the hot baking sheet and bake for 15 mins, then remove the beans and parchment and return to the oven for another 5 mins or until biscuity brown. Trim the sides of the pastry case with a serrated knife and discard the trimmings.
Ad. Article continues below.
2. Pour the cream into a saucepan, scrape out the seeds from the vanilla, add these along with the pod and heat until steaming. Meanwhile, whisk the whole eggs, yolks and sugar in a large bowl until smooth. Pour the Baileys into the cream, then the cream mixture onto the eggs and mix well. Strain the mixture through a sieve and into a jug.
3. With the tart case still on the baking sheet, carefully pour the custard into the tart. Reduce the temperature to 150C/130C fan/ gas 2 and bake for 30 mins until the filling has just set but still has a slight wobble in the middle (the tart will continue to set a little once out of the oven ). Cool to room temperature, then chill in the fridge for at least 2 hrs.
4. Whip the remaining cream, sugar and Baileys until it just holds its shape. Pile into the centre of the tart, leaving a border of custard exposed around the edges. Scatter with crumbled honeycomb, if you like, and serve immediately.
—————————————————–
If you'd like to see more recipes from Starts at 60, click here. And if you have a recipe you'd like to share with the Starts at 60 community – we'd love to share it! Submit them to us by completing the form below.
Submit your article here