9 reasons why you shouldn't throw away your old tea bags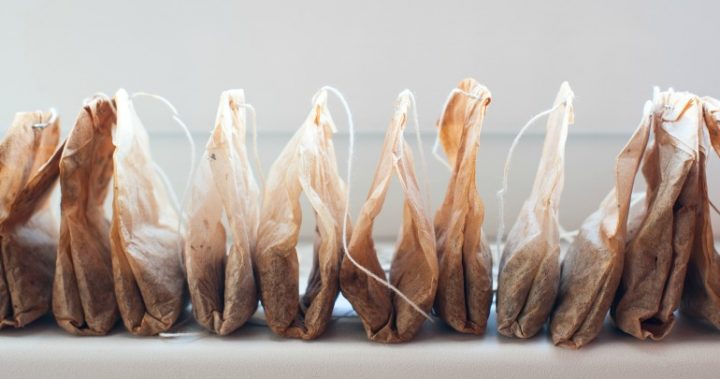 If you love drinking tea, then chances are you're throwing out one of the most useful items in your home every day.
That's right, your old tea bags can actually be really handy around the house for a variety of reasons.
From health remedies to household cleaning, here are 9 ways your tea bags can be more useful than you thought.
Read more: 16 amazing alternate uses for tea bags
Ad. Article continues below.
1. Keeping creepy crawlies away
If your home is susceptible to visiting mice, spiders and other creepy crawlies, then it might pay to use your old tea bags to keep them away. Apparently, mice can't stand the smell of tea. With this in mind, place your used tea bags anywhere you believe mice could be getting into your home. You can also give the tea bags a boost by soaking them in peppermint oil. Not only will that keep the mice away, it'll also stop the spiders and ants from getting into your home and it'll make your home smell great too!
2. Getting rid of infections
Ad. Article continues below.
It turns out your used tea bags can be used to get rid of a variety of infections from pink eye to blisters and warts. All you need to do is apply a warm, moist tea bag to the infected area. Apparently, the tea bags will not only draw out the infection, they'll also reduce the pain and speed up the healing.
3.  Cleaning glass
So, your used tea bags can be used to clean the glass surfaces in your home – including those hard to clean windows and mirrors! All you need to do is re-brew the tea bags and spray the tea (which will be weaker than normal tea) onto the glass you want to clean. Apparently, it'll help get rid of all the dirt, grime and fingerprints! Once you're sprayed the glass, just wipe it down with a clean cloth.
Ad. Article continues below.
4. Soaking your feet
If your feet have calluses, dry or rough skins or a lingering odour, then you can soak them using tea bags. All you need to do is soak your used tea bags in warm water, and then rest your feet in the water. Your feet should smell better and feel better, and those calluses should become softer. 
Read more: Reuse your tea bags after your cuppa in these 5 genius ways
Ad. Article continues below.
5. Making your cuppa taste even stronger
If you've just made a cuppa and it tastes a little bit weaker, then why not add a used tea bag to the mix? Apparently, by adding a used tea bag you can boost the flavour of your cuppa – making it much stronger. This tip works best for green or red teas.
6. Adding extra flavour to your grains
While we're on the topic of boosting flavour, apparently used tea bags can also be used to add and boost flavours of your favourite grains including pasta, rice and oatmeal. All you need to do is add your used tea bags to a pot of water while you boil it. Then, remove the tea bags and add the rice, pasta or grains you're making. Why not try boosting the flavour of your pasta with green tea bags? Or using jasmine or chamomile tea with your rice?
Ad. Article continues below.
7. Scrubbing your hands 
Your hands get prone to lingering odours, particularly after handling meats, fish, garlic and onions. To remove any smells, try scrubbing your hands with use tea bags. It'll get rid of the lingering smells and make your hands smell fresh! For the best results, try using a strong scented tea such as peppermint or chamomile.
Read more: Genius hack that turns regular tea into an anti-stress wonder
Ad. Article continues below.
8. Dying paper and cloth
If you're doing arts or crafts and need a sepia, antique parchment look then you can use tea bags to get that effect. All you need to do is soak your used tea bags in some warm water, remove the tea bags and then use the water to dye the paper or cloth. You can turned it an array of colours from browns to orange or green depending on the variety of tea you use.
9. Removing bad smells in your home
Ad. Article continues below.
Tea smells great! If you love the smell of tea, then why not use the smell to get rid of any bad odours lingering in your home? You can use your old tea bags as an air freshener for a variety of situations. Try sprinkling tea leaves in your cat litter or putting a few dried tea bags in the bottom of your bin. You can also put tea bags in your fridge to make it smell better!
When storing used tea bags, it's important to remember they are like most fresh foods – they're perishable and will mould and stink over time. A used tea bag will stay moist for up to 24 hours at room temperature, and can last several days if kept in the fridge.
Have you tried any of these tricks before? Do you re-use your old tea bags for anything around the house?