6 things you must do before you set out on a grey nomad journey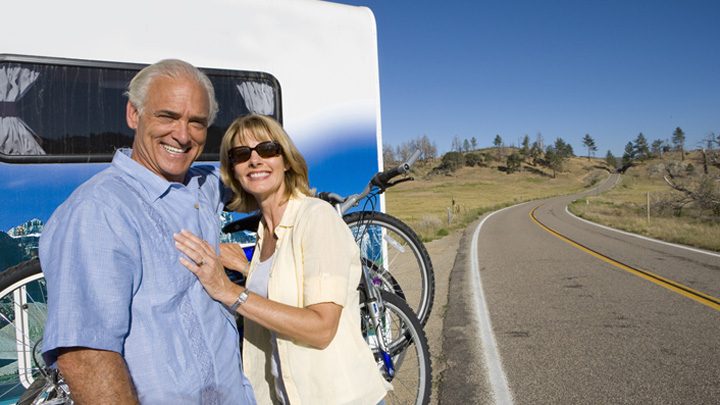 It's exciting to think about going on a grey nomad adventure, but when you're about to hit the road, that's when the panic sets in. It's a classic misconception that you just jump in the car and let things sort themselves out – you actually need to set aside some time to plan and think about the journey ahead.
With some prior planning, you can have the relaxing time you always wanted, without the worry.
Here's our top tips for any first time grey nomad and what you must do before you set out on a new trip!
1. You must… Figure out how you'll keep connected
Becoming a grey nomad can be one of the most freeing experiences and thanks to modern technology, it's no longer the lonely activity that it once was.
Ad. Article continues below.
Consider how often you'll be in range of an internet connection, and how you plan to contact your family. If you don't already have a smart phone or tablet, now might be the time to get one.
On these mobile devices, once you're connected to the internet you can:
Blog – keep an online journal to post stories and photos of your trip
Use Viber and WhatsApp – these apps allow you to make free calls, text, and video messaging
Use Instagram – share your videos and pictures with your friends and family
Here's some other gadgets to take with you!
2. You must… See your doctor
Ad. Article continues below.
Even if you're feeling great right now, things can change, and you never know what could happen on the road. Even though your stresses may fall away once you get on your way, you should still make sure you're in tip top shape if you'll be away from medical care.
Checklist:
A full check up with your doctor and assessment of any medications. Ask for advance prescriptions if possible, or organise to have script faxed to a destination
Get your eyes checked
A full examination and clean of your teeth and save the toothache later!
Purchase a fully equipped first aid kit
Get travel insurance and make sure an ambulance call-out is included in the price
3. You must… Redirect bills and letters
It'd be nice to just never have to deal with bills and letters of demand, wouldn't it? But even when you're on the road, they will still come, and you will still need to pay them.
Ad. Article continues below.
Consider:
Changing your address to a trusted relative if you will be packing up the house and selling up
Giving a trusted friend or relative access to your mailbox to collect mail if you're not moving
Organising a re-direct on your mail to a professional mail forwarding agency. They can send the letters to any post office near to where you are in Australia.
Buying a diary that you can write down the due dates for all of your bills. Be sure to include your vehicle registration and licence renewal dates in there as well.
4. You must… Think about storage
If you're selling up your house or moving out of a rental, then you might be wondering what to do with your stuff. No doubt as a 60-year-old, you'll have quite a lot of things that could fill a house and more!
Consider:
Ad. Article continues below.
Self storage – Many companies have lockable sheds or rooms at a nominal fee that will house your belongings for a flexible period. Self storage has the advantage of being safe and secure, and you can even have insurance for your possessions in case of fire or, very unlikely, theft.
Looking for a self storage facility with good reviews and pest control.
A mobile "box" instead. If you're not sure how much room you'll need or you only have a small amount of things you want to store, then the newer concept of mobile self storage might be what you're looking for. Companies like TaxiBox, ContainAway and SmartBox will deliver a box to your house, whcih you can fill up and then they will take it away to their facility. "Boxes" are 2.4m deep x 1.5m wide x 2.2m high, while standard storage units may range in size from 1×1 metre lockers to 6×9 metre sheds
5. You must… Set up internet banking
It makes sense to cut the cheque book and switch to online banking when you head off on your grey nomad adventure. There are some important things you will need to remember if you're switching everything to online. You can transfer money, pay bills and look through transactions all in one place, via your smart device or computer – how handy is that?
Organise direct debits from your accounts – it will make life so much easier on the road. You won't have to think about the bills your organised to be direct debited as the money will simply be withdrawn from the account on the date specified.
What are your daily limits for different accounts and cards? You should always have one with a high limit in case of emergency and keep the others low.
Ad. Article continues below.
6. You must…Think about what you're going to take with you
It sounds like something you don't want to think about until you're ready to leave, but this is incredibly important. If you're going to be enjoying adventure activities like kayaking, cycling, fishing or something like skiing, you will need a place to store all of your equipment, so it pays to consider this before you buy a caravan. If you've already bought a caravan however and you don't have a lot of space, find out whether your planned destinations have hire kayaks and bikes.
Tell us, are you heading off on a grey nomad adventure? If you're not, where would you like to go?