4 everyday items you can repurpose for your garden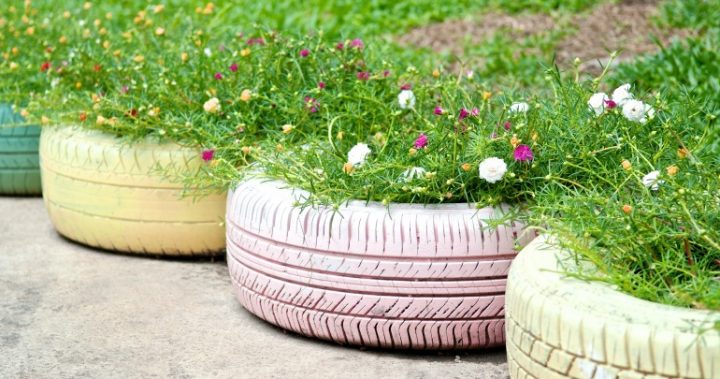 If you love getting out and about in your garden, then you might want to think twice about throwing out your old tyres or wine bottles.
It turns out there are a lot of everyday items you can repurpose to add some character to your garden.
All it takes is a little bit of creativity!
From bricks to tyres, here are four everyday items you can repurpose for your garden.
Ad. Article continues below.
1. Tyres
Ad. Article continues below.
There are so many ways you can use old tyres in your garden. Why not put some plastic on the bottom, fill the tyre with soil and potting mix and plants some flowers or herbs. Old tyres are also handy for creating your own greenhouses. Stack a few tyres on top of each other, add some potting mix and soil, plant your seeds or seedlings such as tomatoes or other veggies and place an old glass window or some clear plastic over the top. The window traps heat and condensation in the tyres and allows you to grow plants such as spring veggies during colder months. Another way to use tyres in your garden is to stack a few on top of each other and use them as a compost heap. Add all your scraps in and regularly turn the compost to create healthy, fertile soil. To add a bit of colour to your garden, try painting or decorating the tyres.
2. Bricks
Ad. Article continues below.
If you've got old bricks laying around your house or can buy some from somewhere cheap, there are several ways you can use them in the garden. One of the most popular is to use old bricks for paving or garden paths. Try using weathered red bricks or a combination of different colours and shapes and laying them yourself. You can also use old bricks as garden edging, not only are they strong, they also look great! As the bricks age, they'll look even more weathered and add an extra element of beauty to your garden.
3. Wine bottles
Ad. Article continues below.
If you love wine, then chances are you go throw plenty of bottles! Next time, instead of throwing out the bottles try saving them up. Wash off your bottles and scrape the labels off because there are plenty of ways you can use them in your garden. One of those uses is as a garden border. Take the bottles and plant them around the border of your garden. Make sure they are firmly in the ground and can't fall over and smash. They'll make a colourful addition to your garden. You can also turn a wine bottle into a waterer for your plants. First, wash the bottles and remove the labels., then fill the  bottle with water . Then drill or punch a small hole in the cork or lid of the bottle. If the bottle doesn't have a cork or a lid, tie some fabric firmly over the opening with a piece of string or rubber band. Then, all you need to do is bury the wine bottle opening first 2 to 3 cm deep in the wet soil of a pot plant and leave it. The water will slowly leak from the bottle over time, watering your plants gradually. It's a pretty handy tool to have if you're going away for a period of time!
Ad. Article continues below.
4. Wooden pallets
Ad. Article continues below.
One of the biggest DIY garden trends is pallet gardening. All you need to do is grab some old pallets and you can create a range of different items for your garden. From vertical gardens to compost bins and fencing, there's so much you can turn your wooden pallet into. Just make sure your wooden pallets are stamped with HT (not chemically treated), clean them down and take out the rusty nails and staples. Pallet gardens are not only good space savers, they can also be an easy way to grow plants without stressing about turning soil and keeping weeds at bay.