20 must-dos on your world food bucket list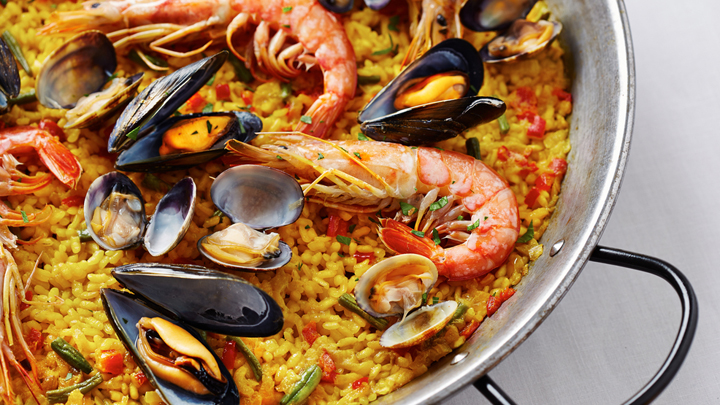 Food is one of the greatest joys in our lives – it fills us up, it brings people together, and so many dishes taste amazing. But have you ever thought about how many world dishes you've tried? There's surely so many you haven't eaten due to location or accessibility, but may be missing out on.
The below are must-tries in your lifetime, as voted by travellers, locals and chefs around the world.
So go on! Dig in… here's the top 20 world dishes to add to your food bucket list!
1. Steak and kidney pie in England
Ad. Article continues below.
A mix of slow-cooked beef, kidneys, vegetables and gravy in pastry, this British pub staple is an essential.
2. Mussels in Brussels
Ad. Article continues below.
Moules are the national dish of Belgium, traditionally served in a pot of broth with a side of Belgian frites and homemade mayonnaise.
3. Souvlaki in Athens
You haven't really tried souvlaki until you've tried it in Athens. This street food is skewered lamb rolled in pita bread with loads of haloumi, lettuce, tomato and tzatziki.
Ad. Article continues below.
4. Paella in Valencia
Traditionally considered a poor person's meal, paella has taken the world by storm for its thrown together recipe, but amazing taste. This seafood and rice dish originated in its modern form in the mid-19th century near on the east coast of Spain.
5. Bouillabaisse in Marseilles
Ad. Article continues below.
Love a good stew? Bouillabaisse is the ultimate stewed meal. Flavoured with olive oil, tomatoes, wine and saffron, you'll love every spoonful.
6. Swedish meatballs in Stockholm
Ad. Article continues below.
You'll never go back to IKEA meatballs after sampling the original type in Sweden. Locally called kottbullar, these delicious meatballs are made with a mix of ground beef and pork and served in a creamy sauce with boiled or mashed potatoes, with a side of lingonberry jam.
7. Pizza in Naples
Ad. Article continues below.
Everyone knows pizza is Italian but Naples is where it all began. A genuine wood-fired pizza is a must-try when in Rome (or near it!).
8. Portuguese egg tart in Lisbon
You may be familiar with the little custard tart you see in bakeries but it really does taste better made fresh in Lisbon.
Ad. Article continues below.
9. Pho in Hanoi
The simmered broth with rice noodles and bean shoots is already adored across the world, but this street food is truly authentic when you go to Hanoi.
10. Masala Dosa in Bangalore
Ad. Article continues below.
This popular crisp pancake made from rice flour is filled with potatoes, onions, chilli and spices.
11. Peking Duck in Beijing
Ad. Article continues below.
We serve this in restaurants here in Australia, and it's no wonder given how popular it is across the world. In Beijing the duck is crisp and the flesh succulent.
12. Sushi in Tokyo
Ad. Article continues below.
Sushi chefs train for years to perfect the art of sushi making, and Tokyo is the home of the sushi experience.
13. Pad Thai in Bangkok
Ad. Article continues below.
Aussies love their Pad Thai from the local Thai takeaway but in Bangkok, there is something special about the simple fried noodle dish.
14. Lobster roll in Maine
The lobster has to be Maine lobster, freshly cooked and freshly picked. Then tossed with mayonnaise, salt and black pepper and then placed into a soft hot dog bun. Then you have truly had a lobster roll!
Ad. Article continues below.
15. Poutine in Montreal
We might like our fish and chips, but have you ever had fries with cheese curd and gravy? It's called poutine and Canadians are crazy for it.
Ad. Article continues below.
16. Southern fried chicken in Memphis
Take away joints can try and replicate it but nothing tastes better than the real deal in Tennessee.
17. Feijoada in Rio de Janeiro
Ad. Article continues below.
Feijoada (fay-schoh-arda) is a hearty dish of beans and pork but is so much more than that. It is loved far and wide for its rich sauce and ability to leave people who eat it wanting more.
18. Ceviche in Lima
Ad. Article continues below.
This interesting dish comprises of raw fish cured in lime or lemon and seasoned with chilli, onion and coriander. It's a favourite across the coast of Latin America!
19. Kebabs in Istanbul
Ad. Article continues below.
Cooked of hot coals on an open grill known and served on paper-thin grilled flatbreads, the long skewers of lamb are still sizzling and smoking as they reach your plate.
20. Marzipan in Berlin
Ad. Article continues below.
Chances are the marzipan you've tried isn't authentic. You need the real stuff from Germany, which contains only ground almonds with sugar.
Tell us, how many of these foods have you tried?